Manufacturing sector must transform to compete: Kim Carr
31-08-2010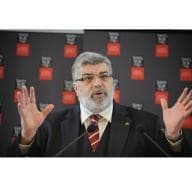 Industry Minister Kim Carr says the manufacturing sector needs to transform to remain globally competitive.
In a recent interview with the Australian Financial Review Senator Carr pledged the Labor government's continued support of manufacturers.
Manufacturing has suffered from a high Australian dollar, wage costs, low commodity prices and competition from low-cost producing nations.
"We know that manufacturing is under enormous pressure but there are signs of improvement," Senator Carr told the AFR.
"With the Australian dollar coming off from its very high peaks, it is not the time to go easy on the innovation transformation that's required to keep us competitive," the minister said.
"If anything, it is now time to accelerate our efforts to modernise our plants, to modernise our workplaces, to modernise our management systems and to increase our R&D, increase our collaborations with universities and to attract new investment," Senator Carr said.
"I think we have to recognise ­Australia is a high-cost country. We've got a high standard of living, there are a whole lot of factors that given our location mean that we are going to be more expensive in some areas."
Senator Carr was reappointed Minister for Innovation and Industry last month in the new Rudd ministry.
Senator Carr's comments come as General Motors Holden (GMH) negotiates for ongoing federal support to prevent it from closing its local operations.
This follows the announcement by Ford in May that it would close its Australian operations in 2016, with the loss of an estimated 1200 jobs.
"There is clearly a place for all industry but it is a question of attracting new investment to ensure they're able to deploy the new technologies to keep us competitive," Senator Carr said, adding that automotive industry labour costs were not as high as other countries when things like a public health system were included.
"I don't think you should ask the workforce to bear all the burdens," Senator Carr told the AFR.
It was critical Australia developed highly skilled manufacturing – and that government gave more assistance to agriculture and oil and gas than to manufacturing.
"We don't live in an ideal world and we don't live in a perfect market," Senator Carr said. "That doesn't mean we have to constantly engage in a race to the bottom but it does mean that we have to work extremely hard if anything in that race to the top."
Senator Carr said there would be ongoing private discussions with companies including Holden, Toyota and Comalco about the direction of Labor policy as the nation heads to an election before the end of November.