MANUFACTURING SECTOR ENERGY REPORT WINS SUSTAINABILITY AWARD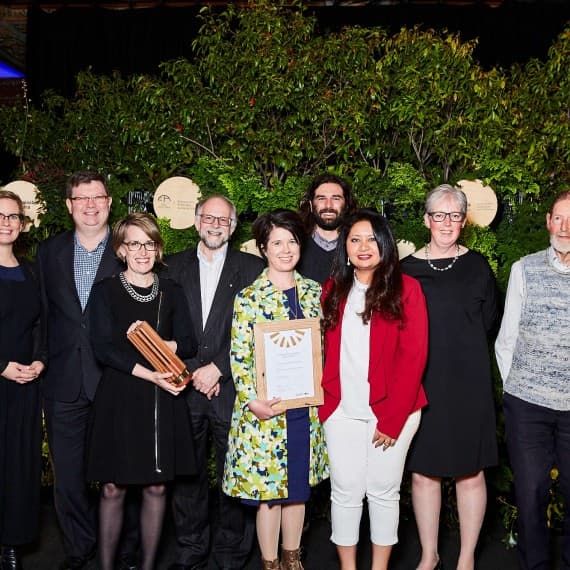 The Beyond Zero Emissions team
A world's first emissions report for the manufacturing sector developed by Beyond Zero Emissions' expert volunteers has won the new Environmental Volunteering category in this year's Victorian Premier's Sustainability Awards.
Beyond Zero Emissions is a small research organisation that engages expert volunteers to produce and promote independent, innovative research solutions demonstrating that a zero emissions Australia is achievable and affordable. The report, titled "Electrifying industry", shows how to eliminate greenhouse gas emissions from manufacturing.
Electrifying industry is influencing the wider community and industry about the environmental benefits of using renewable electricity to eliminate emissions.
At the annual awards' ceremony in Melbourne, the Minister for Energy, Environment and Climate Change, the Hon. Lily D'Ambrosio presented Enable Social Enterprises as winner of the Premier's Recognition Award for their work training and employing disadvantaged people in a thriving e-waste business.
Other highlights included Downer winning the Large Business category for creating an asphalt pavement material from nontraditional repurposed materials that is perpetually recyclable.
Sustainability Victoria's interim Chief Executive, Carl Muller, said the awards showed how management of environmental issues was of growing importance for all Victorians – no matter age, no matter where they live or what they do.
"Each year, the Premier's Sustainability Awards continue to discover Victoria's best and most inspiring Victorian individuals, organisations and businesses who are developing and implementing new sustainable practices," he said.