MANUFACTURING OUR HIGH TECH FUTURE AT CSIRO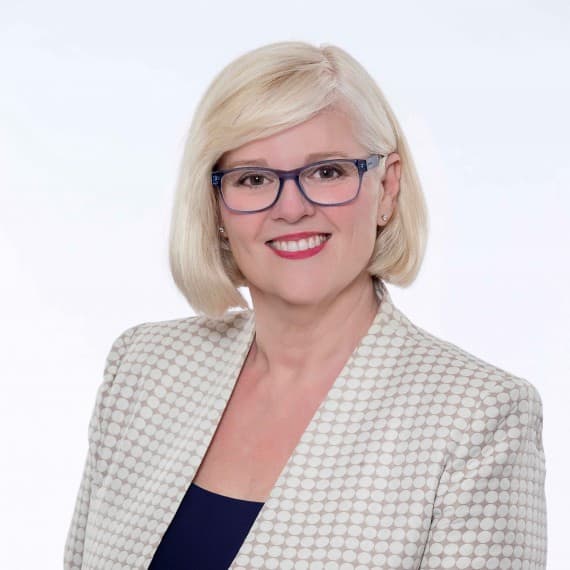 Earlier this month, I visited the state of the art Clayton precinct of Australia's national science agency, CSIRO in Melbourne. This is one of CSIRO's largest sites, with 1200 of Australia's best and brightest researchers working there.
Much of CSIRO's manufacturing, engineering and biomedical research takes place at the Clayton site, focusing on delivering bespoke technology solutions for the manufacturing industry.
The Coalition Government recognises that advanced manufacturing is key to Australia's future economic success. Facilities like this are giving our manufacturers a unique edge to compete on the global stage.
At Clayton, I spent much of my time at the $6 million Lab 22 Innovation Centre, which is CSIRO's 3D printing facility.
3D printing – or additive manufacturing – has huge advantages over traditional manufacturing methods. For example, it reduces waste material, speeds up the product development and test phase, allows for product customisation, and provides the ability to make more complex parts.
CSIRO's Lab 22 is making metal additive manufacturing more accessible for Australian businesses, enabling them to innovate with less capital investment risk – one of the major barriers to adopting 3D metal printing. This is particularly valuable for small and medium businesses wanting to develop prototypes for innovative products without having to purchase expensive high tech equipment.
The Coalition Government is investing in cutting-edge methods like those in the 3D printing facility through our $47.5 million Advanced Manufacturing Growth Fund, established in the 2017-18 Budget as part of a $100 million package to support advanced manufacturing.
During my tour of Lab 22, I was also shown a sand mould of a car engine block. It's one of many things the team there have experience in with 3D printing.
They had been approached by Sydney company Vintage Restoration Management to help painstakingly restore a 1914 Delage Type S (a French race car), on behalf of its owner. The Delage was a revolutionary racing car for its time, and this one was the only one left in the world.
The team used its 3D sand printer to create a mould of the engine block, which later had cast iron poured into it to make a casting, and the last-surviving 1914 GP Delage was back on the road!
I also had the chance to see the cast of a 3D printed titanium heel that had been developed by CSIRO in partnership with Victorian biotech company Anatomics and St Vincent's Hospital in Melbourne.
The heel itself had been used in world-first surgery to assist a Victorian patient with heel bone cancer. In fact, it had taken just two weeks from Lab 22 getting a call about the emergency to the surgery being conducted, showing how 3D printing can be used to quickly produce customised biomedical products.
There were many other world-class facilities that I visited during my tour of CSIRO's Clayton precinct.
I saw the Floworks Centre for Industrial Flow Chemistry, which is a pilot scale facility that develops safe, efficient and reliable flow chemistry processes for the pharmaceutical and fine chemical sectors.
I also visited the Rapid Automated Materials and Processing Centre, which uses automation, robotics and experimental design to help research and industry partners undertake materials research.
And I saw the Recombinant Protein Production Facility, which assists researchers to obtain sufficient material for clinical trials, thereby helping to catalyse innovation in the Australian biomedical sector.
These are all fantastic examples of CSIRO's innovation expertise, and the potential for researchers and industry to partner to support Australia's manufacturing sector, and ultimately create more jobs and ongoing economic growth. There is much cause for optimism in this regard when it comes to Australia's manufacturing sector.
Under the Coalition more than 93,000 new manufacturing jobs were created in the 12 months to August 2018, bringing the total number of people directly employed in Australia's manufacturing sector to 978,000. This is an 11 per cent increase compared to a year ago, and brings national manufacturing employment to its highest level since 2010.
Lead indicators are also showing positive signs. In September, the Ai Group's Australian Performance of Manufacturing Index stood at 59 points.
This means under the Coalition Government there has now been a full two years of uninterrupted growth in the manufacturing sector, which is experiencing its longest consecutive stretch of gains since 2005.
This is very positive news, and it is essential that we continue to nurture the industry research partnerships that will drive the future growth of advanced manufacturing in this country.
CSIRO Clayton forms part of the Australian Manufacturing and Materials Precinct – a hub for industry and research-based organisations to connect, collaborate and focus on translating research outcomes to industry.
The precinct is home to a massive 40 per cent of Victoria's manufacturing companies, as well as Monash University, the Australian Synchrotron and the Melbourne Centre for Nanofabrication.
Along with the Coalition Government's investments in the Advanced Manufacturing Growth Centre and the Innovative Manufacturing Cooperative Research Centre, this is connecting our world-class research organisations to industry, and driving the global competitiveness of our manufacturing sector.
I am very excited about these and many other amazing initiatives and am committed to working with our manufacturers as they continue to transition, and create new jobs and opportunities for all Australians.
The Hon Karen Andrews MP is the Federal Minister for Industry, Science and Technology.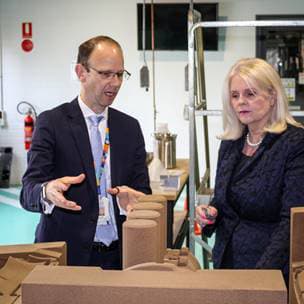 The Hon Karen Andrews MP with Dr Leon Prentice (Research Director, Metal Industries, CSIRO Manufacturing) viewing a sand mould of an engine block 3D printed by Lab 22.