MANUFACTURING MAKES GAINS IN JUNE
05-07-2016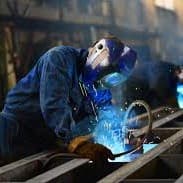 The Australian Industry Group Australian Performance of Manufacturing Index (Australian PMI® ) has edged up 0.8 points to 51.8 points in June, taking the index into more expansionary territory.
The June results have come after some expansionary conditions in May and marks a complete twelve months of continuous expansion.
The continued expansion in the Australian PMI® is linked to the fall of the exchange rate over recent years.
With the Australian dollar now considerably lower than its peak of nearly five years ago, manufacturers have regained some of the competiveness that was given up during that period of high exchange rates.
Five of the seven manufacturing activity sub-indexes in the Australian PMI® remained above 50 points in June.
Production (54.4 points), new orders (54.1 points) and sales (53.7 points) drove the expansion for the month and this bodes well for future months.
The employment sub-index remained (47.9 points) and deliveries slipped into mild contraction (48.9 points) for the month.
The strongest sub-sectors were petroleum & chemical products (62.1 points), non-metallic mineral products (58.3 points) and wood & paper products (57.7 points). The food & beverage sub-sector lost some steam in the month (down 11.6 points to 53.7 points) but kept expanding. Metal products (50.5 points) and printing & recorded media (50.2 points) lifted out of contraction. The textiles & clothing products (48.9 points) and machinery & equipment (44.8 points) sub-sectors both contracted for the month.
Comments from manufacturers in June indicate continuing uncertainty surrounding the impending Federal Election
 "The mild expansion of manufacturing in June capped a year in positive territory for the Australian PMI®." said Innes Willox, Ai Group Chief Executive.
"It was a year in which manufacturers took advantage of the boost to competitiveness from the lower Australian dollar both in the domestic market and in export markets. The metal products sub-sector, which has been heavily impacted by adverse global conditions in recent times, recorded its first expansion since September 2010. The important food and beverages sub-sector continued in positive territory although there are now signs of a slowdown and the machinery and equipment sub sector was weaker – in part due to the low levels of business investment across the economy and the gradual wind-down of auto assembly."
"The clear imperative for the sector is for a lift in investment both within the sector itself and more broadly across the economy," he concluded,