MANUFACTURING BIG DATA KEEPS GETTING BIGGER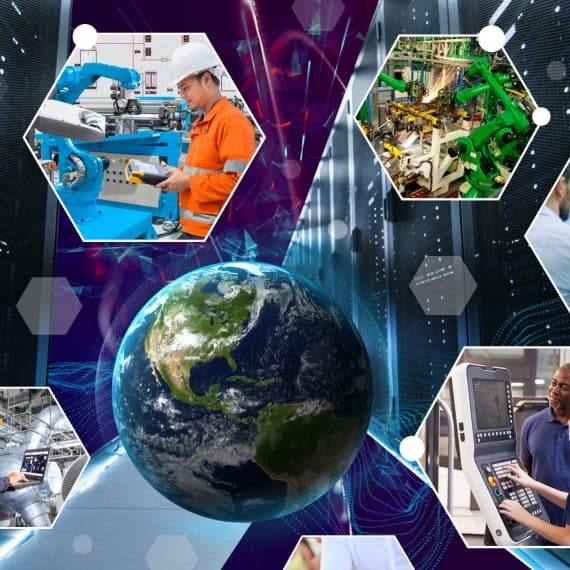 Manufacturing is proving to be one of the main drivers of the global "datasphere", according to a new report from IDC sponsored by data and storage specialist Seagate Technology. That datasphere, which is defined as of the amount of data created, captured, and replicated across the world, is predicted to grow to an eye-watering 175Zbyte (175 x 10007 bytes) by 2025.
The new IDC White Paper "The digitization of the world – from edge to core" examines the "data readiness" of various industries, and concludes that manufacturing industry is not only in an advanced stage of readiness, it leads in many areas of digital transformation.
However, the sector has room to improve, particularly in terms of its investment around blockchain and artificial intelligence.
And while there are other sectors that may be growing their industry dataspheres more quickly – notably in the healthcare field – the manufacturing datasphere is and will remain the largest of all those covered by the report, growing to more than 20Zbyte by 2025, reflecting the impact of the adoption of Industry 4.0.
In the words of one director of process engineering at a specialist chemical manufacturer who contributed to the study: "In the last three years, the data generated by our plants has multiplied over 100 times. New sensors, processes, and more ubiquitous connectivity has allowed our engineers to embed sensors into anything and everything. We are still struggling with how to get the data out of the siloes, but we are on the verge of a major transformation in how we use the data."
The study also predicts that almost half (49%) of the world's stored data could reside in public cloud environments by 2025 – a shift largely driven by the global adoption of IoT sensors that are constantly capturing, recording, and analysing data in business environments.
"We are at the beginning of an era where both data creation and data utilisation are forecasted to grow rapidly over the next decade," says Seagate CEO Dave Mosley. "While some industries are more prepared for digital transformation than others, all businesses need to be ready to act on a solid digital strategy in order to be successful in the data age."
"Data technologies are becoming central for productivity expansion, data monetisation and value-creation. We are excited to be part of this transformation and be a strong supporter to enable these opportunities for the years to come."
According to IDC Senior Vice President David Reinsel, "While endpoints continue to be the primary location for data creation in the short term, the fastest growth is forecasted to happen at the core and the edge - with more data stored in the core than in the world's endpoints by 2025. This will be particularly true for major industries as edge computing continues to be a key driver of business-critical factors and digital transformation."
"The digitization of the world – from edge to core" is available from Seagate.