Manufacturing activity on the rise
31-08-2010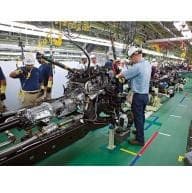 Australia's manufacturing sector is showing signs of improvement, due largely to increased production and a boost in new orders.
The manufacturing sector nudged growth in June, according to the latest Australian Industry Group Australian Performance of Manufacturing Index (Australian PMI).
The Index recorded 49.6 in June – up 5.8 points from the previous month.
Readings below 50 indicate contraction.
Production expanded to 50.2 from the previous month, while the new orders index recorded 49.9 and supplier deliveries 49.6. 
But despite sharp falls in the Australian dollar, manufacturing exports continue to struggle. The export Index for June was 30.3.
Ai Group Chief Executive, Innes Willox, said: "The unexpected lift in the Australian PMI is a welcome, though tentative, sign that manufacturers' efforts to fight back against the severe pressures facing the industry are beginning to pay off."
Mr Willox said the Reserve Bank's reductions in the cash rate appear to be supporting a weak pick-up in local demand. A drop in foreign exchange rates may also be assisting local domestic producers.
"Export conditions, however, remain extremely challenging," Mr Willox said.
The improvement comes after two years of continuous decline and after two months of especially weak Australian PMI readings in April and May. 
Mr Willox urged caution with the latest figures, warning that sales are still lagging behind production.
Despite the weaker Australian dollar and a relatively low level of official interest rates, Australia remains a high-cost location for production.
"We need to generate a significant lift in productivity to restore competitiveness, he said. "This is critical if the manufacturing sector is to contribute to the economic resilience and diversification required as the mining investment boom fades."