MANUFACTURER'S 'GROUND-BREAKING' NEW BUCKET ATTACHMENTS
06-06-2017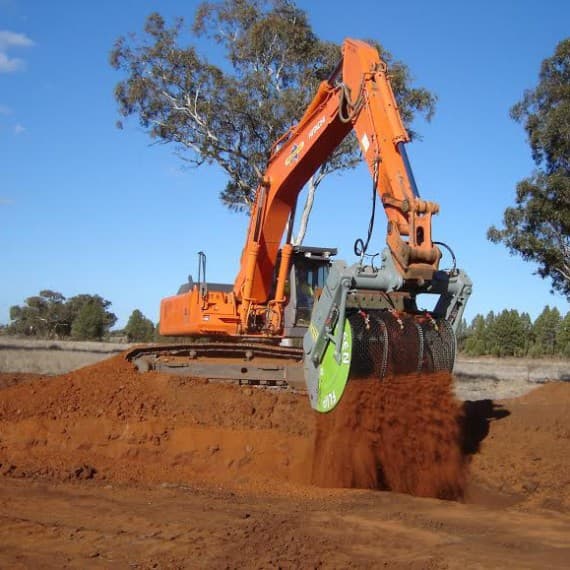 How did a small Australian manufacturer become a global player in the construction materials screening market, and today hold a position at the forefront of land mine detonation and clearance?
This is a story of Australian practical engineering ingenuity and business success that should be told to every trades apprentice and in every technical school in Australia.
This is as much a story about great products as it is about Sam Turnbull who is one of Australia most notable inventors and the company he founded, Flipscreen, which can be seen as an international and Australian commercial success of the first order.
That Mr Turnbull is not an engineer or a tradesman but rather an inventor with vision and a keen sense of practical solutions required to tackle a real problem along with a well-grounded grasp of practical reality that merely adds to the level of attention this narrative so richly deserves.
Today Flipscreen has sold nearly 1,000 bucket attach units with customers in Australia, Europe, United States, Asia and even in Antarctica. The Flipscreen factory employs more than 25 skilled employees and over the years R&D budgets can be figured in the millions.
A few years ago an office has been opened in the United States. Flipscreen products are suitable for excavators and loaders up to 50 tons.
So how did it all begin?
Nearly 15 years ago Sam noticed how difficult and expensive it was to screen and sift/separate rock and clay from soil during excavation and earthmoving on his farm and with an excavating business in Sydney.  With a mind uncluttered by convention and an imagination unconstrained by doctrinaire thinking Sam set out to solve this problem in a very direct, practical way with an all-important fresh perspective that sometimes only an industry outsider can bring.
With modifications and refinements made over the next two years Sam produced a fully working prototype and won first prize on the prestigious inventors TV show.
The amount of enquiry received as a direct result of demonstrating the Flipscreen on the Inventors TV programme made it very clear Sam had a potentially viable business supplying an obvious market demand.
Today the Flipscreen product range of screening solutions is extensive.
Additional product refinements, developing new products utilising the latest technologies in screening media and "smart" hydraulics, larger bucket capacities and a wider array of attachment (machine specific) compatibilities in both size and application point to how far Flipscreen product development and technology has progressed over the last decade.
The thought that has gone into developing Flipscreen products are noticeable with details such as the operator being able to see the bucket edge from the cabin, the wide range of hydraulic settings made available by the Flipscreen smart valve technology and the ease with which screening media can be changed, the simplicity of hitching and fitting.
Seeing the latest Flipscreen technology in action in a work site will be music to the eyes of any landscaper, construction manager, Mine operator, earthworks contractor, demolition engineer, environmental recycler or builders wishing to screen "consistent" fill from site rubble.
The flip screen device is capital equipment that literally pays for itself.  The moment it is put to use it is delivering a tangible return, benefit and payoff to the user.
Like all great ideas translated to practical reality the clean simplicity of the screening solution has instant appeal.  An excavator or loader operator attaches the Flipscreen bucket to the excavator an operation that can be performed by an experienced operator in three minutes.  
Screening media can be changed in five minutes.
Once attached the excavator operator can use it like any normal bucket and cut a load then rotate the bucket on its axis screening and separating the excavated materials such as soil from rock, rock from sand, shells from sand, concrete from soil and so on.
It will come as no surprise that Flipscreen products are used in many of Australia's biggest civil and mining projects with a pedigree going back to the massive civil project of the Sydney Lane Cove tunnel, the gold standard public project of its day.
The uses and applications for Flipscreen products not to mention their rugged and robust design are continually expanding and now include defence industry applications; specifically mine clearing and safe explosives detonation, which should excite defence procurement departments here in Australia and among Australian military alliance partners.
Sam and his team at Flipscreen pride themselves on their after sales service and support as well as design engineering support and planning custom design requirements. Flipscreen in house engineers and technical advisers are only a phone call away and having a fully stocked spare parts department enables parts to be freighted overnight to almost any destination in Australia making productivity and machine uptime a number one priority at Flipscreen.
The future for Flipscreen is as bright as the past has been spectacular. New products include rock crushing and screening and further R&D intensive solutions to defence, mining and construction industry challenges.
Flipscreen is a great Australian innovator and the products they have created have changed the way we see and perceive site based material screening here and across the globe.  www.flipscreen.net
David Gray is lead consultant at Digital Information Partners suppliers of media relations, press release campaigns and export documentation services to Australian manufactures and service providers. www.diginfo.com.au