MANUFACTURERS CONFIDENT IN SA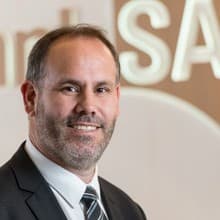 Manufacturing plays an important part in South Australia's economy. While the industry has seen changes over the years, with a shift from traditional manufacturing to more advanced techniques it has remained resilient.
As the state's only bank with a dedicated manufacturing team, BankSA has been a constant supporter of the manufacturing industry and according to its most recent BankSA State Monitor survey, the outlook is bright.
BankSA's State Monitor consumer and business confidence survey released this month, shows that the manufacturing sector was one of three most confident sectors surveyed, the others being financial services and community services.
The manufacturing industry saw the biggest uplift in its confidence in the overall business climate in South Australia, along with business owners reporting improvement within their own business.
Business owners in the survey recognised the importance of labour productivity and investment in new plant and equipment to support their business activity, and intend to create additional employment and make major business purchases in the coming months to help underpin their current business activity and seek growth.
Coupled with the Federal Government's incentives and a boost to the instant asset write off for assets less than $30,000, these are good indicators for South Australia's manufacturing sector.
BankSA is focused on being a catalyst for growth and prosperity in South Australia, and our team of experienced industry bankers work closely with our customers in the manufacturing industry to support their success.
We have a range of solutions to help in managing cash flow, mitigating risk and funding capital investment. Get in touch to find out how our expertise can help your business grow.
Todd leads the BankSA Industry Specialisation Team of industry banking specialists. He brings a wealth of experience from more than 30 years in banking to help support South Australian manufacturers.
BankSA
0466 493 740
www.banksa.com.au/corporate-business/industry-specialists