MANUFACTURER BANKS ON MASSIVE INDUSTRIAL SOLAR GENERATOR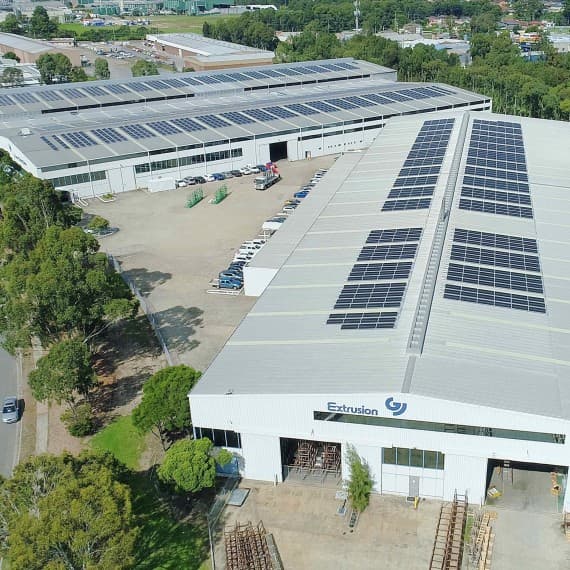 Family-owned Australian aluminium and glass manufacturer G James, which employs more than 2500 people across its operations, has installed a 1MW photovoltaic system on three buildings in the western Sydney suburb of Smithfield.
The system will produce more than 1GWh of electricity per year, supplying a quarter of onsite energy use and reducing the company's annual electricity bills by about $270,000 per year, or an estimated $5.6 million over its working life. It will also lead to an estimated reduction in greenhouse gas emissions by 900t per year. It is made up of 2410 individual panels, and produces enough electricity to power 236 average houses.
The installation was managed by Australian energy services business Verdia and financed through the Westpac Energy Efficiency Program. Verdia is now delivering an estimated 68MW of behind-the-meter solar PV across the retail property, manufacturing, agribusiness and aged care sectors.
While G James is an established industrial manufacturer supplying Australian businesses, it faces constant pressure from overseas operations that don't have the same high cost structures for parts of their businesses, and one of the recent escalating cost pressures is the price of electricity.
"Its plant is using heating and cooling processes to produce its end products, and this uses a lot of energy," Verdia CEO Paul Peters says. "The cost of that power across its Smithfield operations went up substantially over a 12-month period. Overseas manufacturers just aren't facing these same costs pressures at the scale we've seen here in Australia."
The Smithfield complex contains an aluminium extrusion operation where a large hydraulic press is used to force the processed metal through dies under extreme pressure and heat. The end products are finished aluminium fittings for use across our built environment, including commercial and residential structures, local parks and trucks, boats and trains.
Across the site in another building, glass is cut, toughened and laminated so it can be turned into finished products for use in thousands of residential and commercial structures throughout the country.
According to the Australian Photovoltaic Institute, the installation is the largest of six rooftop solar PV generators with more than 100kW capacity in the industrial zone around Smithfield and Wetherill Park.
According to the Clean Energy Report 2019, there was an 80 per cent growth in medium-scale solar PV installations between 100kW and 5MW across Australia in 2018, adding 102MW of solar energy generating capacity.
Verdia
1300 113 243
verdia.com.au