MAN ON A MISSION MAKES MACHINERY DISCOVERY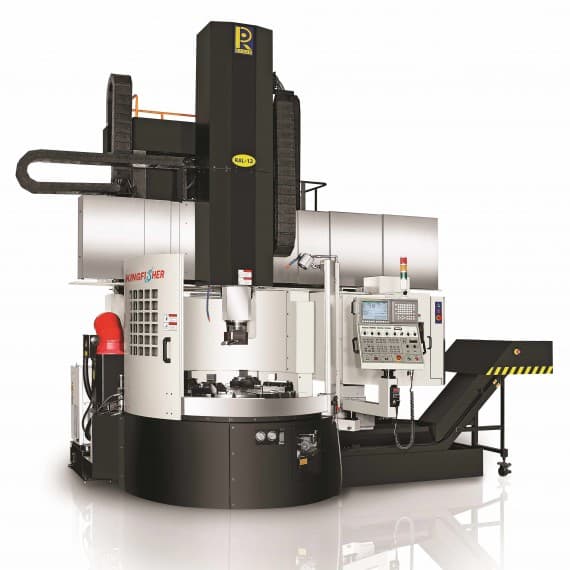 A new machine tool described as "taking precision machining to a new level" has recently been installed at Meeke Engineering.
The story of this 'blue chip' machine began when the management team at Meeke was seeking to add more capability and capacity to its workshops by installing a CNC vertical lathe (CVL). The team approached trusted supplier, 600 Machine Tools, to determine the right machine for the company's expanding workload.
Cliff Purser is Asia-Pacific MD at 600 Machine Tools. He was mindful of Meeke's requirements on a visit to Taiwan earlier this year, during which he made a courtesy call on Radar Industrial, a manufacturer of high-precision machine tools in Taichung City.
This company has with a formidable reputation in the world's engineering workshops, especially with those requiring fine tolerances in components for such market segments as aerospace and health.
After hearing of the specific requirements of Meeke, the manufacturer laid on a demonstration of its new Kingfisher RAL12 CNC vertical lathe.
The specs and performance of this high-precision turning centre were relayed back to Meeke in Wetherill Park, and a company representative immediately flew to Taiwan to view the RAL12 in action.
After the configuration was decided, including a Fanuc Oi-TF control, an order was placed with Radar for early delivery.
A production powerhouse
General Manager of Meeke, Satish Sawant, says: "We are delighted with the RAL12 for a number of reasons, but most importantly for its precision. This is a direct result of the design, engineering, and build quality.
"The Kingfisher CNC vertical lathe is a cleverly designed, cost-effective production powerhouse. Its sturdy construction provides rigidity and stability for longer tool life, toolroom accuracy, thermal stability, and fast run times."
The one-piece column is made from Meehanite cast-iron with a wide-span ribbed box structure, a machine design that provides excellent stability and rigidity.
The new CVL is primarily built from high-quality alloy steel, and its fully covered high-torque octagon-shaped structure is good for enduring the stress of inner and outer diameter cutting, ensuring cutting accuracy.
Radar machine tools are sold, serviced and supported throughout Australia by Sydney-based 600 Machine Tools.
According to MD Cliff Purser, "When I first watched a demonstration of the RAL12, it became obvious that the design enables the VTL to deliver machining excellence through rapid feed rates, fast and precise cutting, and smooth surface finishes.
"The octagon RAM provides superior damping characteristics, excellent thermal expansion control, and stronger rigidity than traditional square designs.
"The octagonal design counterbalances the machining forces on inner and outer surfaces, and ensures accuracy on both sides.
"Meeke will be able to count on the machine's consistent accuracy, even when engaged in heavy-duty cutting, despite the RAL12 having half the footprint of a horizontal lathe."
Up and down
Other features of the Kingfisher RAL 12 include dual-type hydraulics and bearings on the worktable to ensure accuracy and enable high load capacity. And the four jaws built-in to the worktable enable the machining of thin and flat workpieces.
The RAL12 provides five steps of up and down positioning on the cross rail, with slanted positioning lock pins, ensuring repositioning accuracy - making for easier programming.
The x-axis on the cross rail with slanted box way design counterbalances the z-axis front-tilting, creating an accuracy advantage.
The outer diameter toolholder is equipped with slanted positioning taper to increase the machining rigidity and the tightness of tool and tool holder.
The tool magazine design makes tool changing much easier. The magazine is driven by a servomotor to ensure the fast, precise positioning of the automatic tool changer.
Renowned problem solvers
Sawant continues: "Our Wetherill Park workshops provide a lot more than just production capacity. Senior staff members frequently interact with customers to devise knowledge-based solutions to specific problems, often going on to design and engineer a prototype – ever before the chips start to fly."
Meeke Engineering provides hydraulic cylinders and refurbishing, complex welding jobs, specialised CNC machining, and quick turnarounds when required. Typical challenges include centre barrels for the mining industry, gearbox cases for the gear industry, moulds for the rubber mould industry and hydraulic cylinders for the earthmoving industry.
Says Sawant: "At our base in Sydney's industrial heartland, Meeke has the expertise and experience to produce everything from a tiny component to a complete system that has been designed, manufactured, assembled, and tested under a ISO 9001:2008 accredited QA regime."
The company's workshops are about 35km from the centre of Sydney, and about 15km from Badgerys Creek - the site of the new West Sydney airport.
And there's more
Meeke is now in the process of installing and commissioning a very large swing lathe capable of handling workpieces up to 6m in length.
According to 600 Machine Tools Sales Manager Pat O'Doherty: "The powerful MA45 we have configured for Meeke is one of Clausing's large swing lathes that is capable of machining, for example, six-metre barrels for hydraulic cylinders."
A member of the 600 Group, Clausing has led the charge in the world of heavy-duty machining since its founding in 1911, and at least one of its machines can be found in every major US Navy shipyard.
The Michigan company's four series of large swing heavy-duty gap standard CNC lathes are designed, engineered, and built for industrial-strength performance, in particular for heavy-duty stock removal.
600 Machine Tools
02 9674 4738
www.600machinery.com.au