Male blue-collar workers a 'health risk'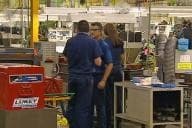 Male manufacturing workers are the most likely of all Victorian workers to have a high risk of type 2 diabetes, a Monash University study of half a million WorkHealth checks has found.
According to the health snapshot, more than one third (35 per cent) of male manufacturing workers were found to have a high risk of type 2 diabetes – a life threatening but preventable chronic disease.
Damaging health habits, in particular smoking and drinking, are the key drivers for this elevated risk – about half of male manufacturing workers (49%) drink alcohol at risky levels and more than one in four smoke (27%).
The study of 500,000 WorkHealth checks, delivered as part of WorkSafe Victoria's WorkHealth program, has revealed manufacturing is one of the most at-risk industries in the state, alongside other male-dominated, blue-collar industries such as construction and mining. Three quarters of workers in the manufacturing industry are male.
WorkHealth Ambassador, Wayne Kayler-Thomson, said resistance among males to head to the doctor and be proactive about their health was a factor in these results.
"WorkSafe research shows that time, cost and a 'she'll be right' attitude are the major stumbling blocks when it comes to getting a health check, with males far less likely to have a preventative health check than women," Mr Kayler-Thomson said.
"The concerning health risks among manufacturing workers pose a real threat to the future productivity and performance of the industry. It's important that business leaders look at what more they could be doing to support health and encourage healthy choices during the workday."
Paul Johnson, National Safety Manager at manufacturing company, Knauf Plasterboard, said getting workers – in particular male workers – to care about their health could be challenging but was critical to ensuring the company's long-term sustainability.
"Our people are our greatest resource and keeping them fit for work is key to achieving optimum performance, particularly in light of an ageing workforce," Mr Johnson said.
"But when you're dealing with blokes, a lot of guys initially dismiss health and wellbeing initiatives as being nonsense or none of an employer's business. Couple this with a 'it won't happen to me' philosophy and it can be tough getting people to adopt healthier lifestyles."
Mr Kayler-Thomson said all businesses should sign up for free WorkHealth checks to help workers understand the state of their health and encouraged at-risk workers to take up the free support available through the WorkHealth program.
The WorkHealth checks were conducted on 51,367 manufacturing workers between April 2009 and April 2012.