Published 09-05-2019
| Article appears in April 2019 Issue
MAKING THE SWITCH TO VALUE-ADDED DISTRIBUTION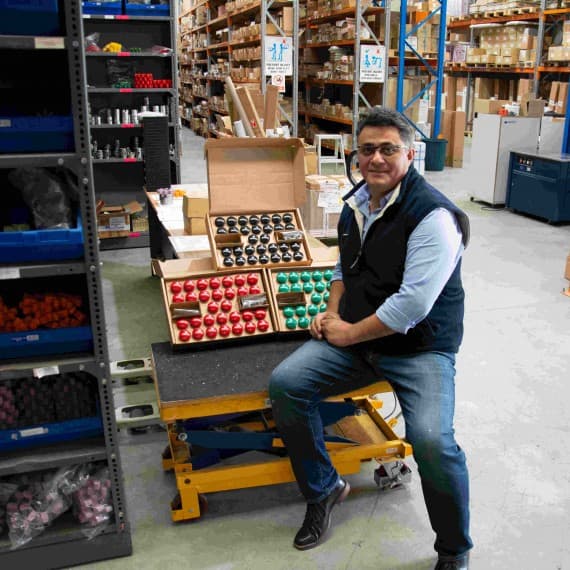 Anil Garyali: "It's all about application support"
As the exclusive distributor for the internationally renowned ITW Switches brand in Australia, Arlin Components & Hardware could be forgiven for selling the range based purely on the quality, performance and value for money of the products. After all, over the past 55 years, ITW Switches has gained a global reputation for its innovation and high quality standards.
Now well into the second year of its distribution deal, Arlin has taken a different approach, and one that mirrors ITW Switches' own ethos of working with its customers to supply exactly the product they need for their specific applications.
According to Arlin's ANZ National Sales Manager Anil Garyali, this has been a key differentiator in the highly competitive market for pushbutton switches.
"It's all about application support," he says. "Where the customer needs a special mounting, say with an IP67 enclosure, or a special backplate, perhaps with laser engraving, we're happy to arrange all that," adds Garyali.
In fact, Arlin offers a full kitting service for manufacturers, even going as far as supplying custom wiring looms with the switches ready connected. And this extends to the facility to hold stock in the Arlin warehouse to cater for just-in-time manufacturing.
Highlights of the ITW Switches range for the Australian market include the 76–94 series of panel mounting switches. These are ideal for use in harsh environments with a 20J impact rating and panel sealing to IP67. The bezels and actuators are made from non-sparking zinc alloy, and so the switches are suitable for use in hazardous environments such as mining equipment and petrochemical plants as well as a full range of industrial applications.
Another notable performer is the series 49 of miniature sealed ESD-resistant pushbutton switches that Arlin recommends for applications such as industrial equipment control handles, medical equipment and beverage dispensing equipment. These switches are also panel sealed to IP67, and so are suitable for any application where water, moisture or dust is problematic.
And for miniature applications that also demand non-sparking performance, Arlin recommends the ITW series 59 of pushbutton switches that builds on the features of the series 49 with a construction featuring a special high-creep-strength zinc alloy, making it suitable for critical applications in harsh or hazardous environments.
Arlin stocks a full range of pushbuttons from ITW Switches with a choice of actuators and housings, with either momentary or maintained action and including illuminated versions.
Arlin is the only ITW Switches distributor in Australia to offer production quantities and pricing across the range.
Arlin Components & Hardware
1300 362 191
arlin.com.au