Making Mammoth tasks easy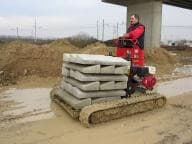 Smart mover … the Mammoth all terrain forklift
ASPAC Group has released a new heavy duty all terrain forklift from Italian manufacturer Hinowa.
In traditional Hinowa style the unique Mammoth forklift can lift up to 2000kg and transport the load over the most difficult terrain without loosing traction or becoming bogged. 
Also, the Mammoth is highly manoeuvrable. Its zero turn ability and compact nature makes it an attractive alternative to telehandlers or all terrain forklifts.
According to ASPAC's Martin Eade, one of its biggest features is its transport weight.
"At only 1375kg the Mammoth can easily be transported by trailer to and from the worksite," Eade says.
This means tradesmen can now avoid paying excessive float fees, as most forklifts can only be transported via tilt trays.
"This is particularly beneficial if a company has multiple sites, says Eade. "The unit can quickly and simply be driven on to the trailer and transported to its next destination."
The Mammoth features an Hinowa rubber tracked undercarriage – a market leader in Europe and has been well tested in Australia since 2005. 
"The Mammoth can easily transport loads on wet and boggy worksites and sand and snow is no problem either," says Eade.
The Mammoth is available in three models and is ideal across a range of industries for moving loads as varied as bricks and pavers to water tanks, portable toilets, instant lawn and mining equipment.
ASPAC Group
Ph: 03 9796 4254