Makinex launches product range in the US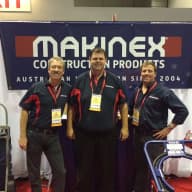 Makinex, a leading Australian supplier of construction products, is expanding its operation into North America, in a strategic move towards growth in international markets.
Australian-owned and operated with its head office in Sydney, Makinex has designed and developed innovative construction products to the Australian market since 2004.
With a wealth of industry knowledge they have now successfully penetrated the US market, focusing on the rental and flooring industry as core markets.
The launch was inaugurated at the American Rental Association (ARA) Rental Show in Orlando, Florida in early February this year.
Makinex and 875 other exhibitors showcased their product range. The Rental Show brought thousands of delegates from various states and was an ample opportunity for Makinex to network and source distributors.
"It's an exciting time to launch in North America, said company director, Rory Kennard. "Revenue growth for the equipment rental industry continues to be on the rise and we want to be a part of that."
Despite the shifting economies in American industries, the rental market conditions are buoyant. The industry is projected to grow 8 percent to $41 billion this year.
Makinex are also seeking new opportunities in the flooring market, with their Mixing Station and Jackhammer Trolley – both designed to increase productivity, reduce physical effort and promote safety.
Other products include the Powered Hand Truck and Dual Pressure Washer.
"Our products are unique and differentiated, allowing customers to do their jobs faster, safer and easier, says Mr Kennard. "They are an asset to any rental fleet, promising a high utilisation rate and maximum ROI.
"Any operator is at a significant advantage when using our products, and we are confident about that."