Makinex launches new range of Petrol and Electric Floor Saws
31-08-2010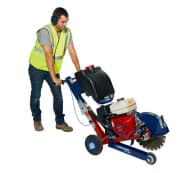 Makinex are proud to release three new Petrol and Electric Floor Saws that allow greater cut depth and outstanding durability.
Makinex Floor Saws are a robust and easy-to-use multi-purpose solution for concrete cutting at a depth of up to 153mm (6 inches) using a 14 or 16 inch blade without needing to reconfigure the pully system.
The new Petrol Saw comes standard with a Honda GX270 series motor that has greater fuel efficiency, reduction in emissions and quieter performance.
The FS-130SP Electric 14", FS-150P Petrol 16" and FS-150ETP Electric 16" make up the complete range of Floor Saws that are efficient and versatile.
The range of Makinex Floor Saws are ideal for cutting concrete slabs, pavements, crack chasing, roads and footpaths with improved precision as the revolutionary flush cutting angle allows greater depths with less physical force while the pneumatic shock absorber adjusts the cut depth to suit the application.
Floor Saws also improve accessibility in hard to reach places as they feature an adjustable rear axle enabling the blade to cut flush against walls and curbs.
Other features include a depth indicator for accurate cut depth, guided sight for straighter cutting and adjustable handle bar height for ergonomic operation.
"We are excited about the new Makinex Floor Saws range," says Paul Weaver, International Sales Manager.
"We now have three models, both petrol and electric that can help operators do their job faster and easier. The name Makinex comes from the philosophy of making inefficiencies extinct and our innovative products clearly demonstrate that, time and time again."
For more information on the Makinex Floor Saws contact Makinex using the options below.