Makinex hand truck: the safe solution
15-02-2010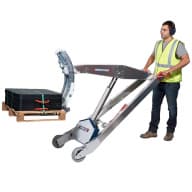 Makinex has released the Powered Hand Truck PHT-140 to provide construction site, warehouse and factory workers with a safer materials handling solution.
Designed and developed by Makinex, the powered hand truck can help save time, physical effort and money.
With the PHT-140, one person can safely lift and load small equipment or bulky goods weighing up to 140kg.
It is an ideal alternative to using a bulky forklift or tailgate loader.
For many tradespeople and contractors, this means the elimination of awkward and dangerous lifts.
It also reduces the risk of back injury and production downtime.
The Powered Hand Truck is versatile with many applications including workshops, warehouses, depots, distribution companies and hire yards.
It is lightweight and easy to manoeuvre allowing lift and load directly into trucks, vans, utes and cars as well as moving equipment and small loads onto bench tops.