MAKE THE PERFECT CUPPA WITH YOUR SMARTPHONE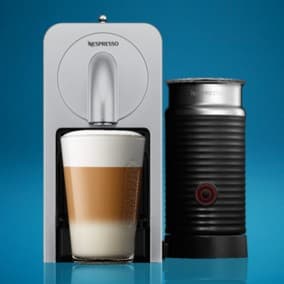 This device is only a small step beyond automated timers, but a striking one: it grants you the ability to roll over in the morning, hit a button, and get out of bed to the sweet smell of coffee.
The Nespresso Prodigio is a coffee brewer that uses Bluetooth to link up to your smartphone, allowing you to brew a coffee at the touch of a button without even having to be in the same room.
For those of us who are on the go from the first moment of the day, little time-saving measures like this make our lives just that bit easier.
Perfect for lazy people and busy people alike, the standard Prodigio has three settings: ristretto, espresso, and lungo, with an optional frother for more milky beverages.
You will still have to interact with the brewer as it can't yet keep its own water tank filled, or Nespresso capsules stocked, though it will tell your phone when these are running low.
The Prodigio also has regular buttons, so if you're having a rough morning and can't find your phone, you can still get your fix.
Nespresso
Web: www.nespresso.com