Make a clean start with Intervac
31-08-2010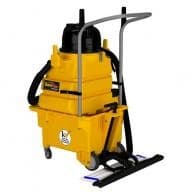 Intervac Australia offers a broad range of cleaning products for all market sectors – industrial, commercial and domestic.
The company was set up in 2002 as the Australian distributor for UK based Numatic International and its wide range of cleaning products.
Other innovative cleaning products followed, including Cilmas (Mirage), an Italian-based company and Kaivac, inventors of No Touch Cleaning in the US.
All products are distributed throughout Australia via a dealer network, covering most major centres.
With its headquarters in Perth, Intervac also has a warehousing facility in Sydney to supply clients in eastern states.
Intervac serves a vast range of markets including manufacturing, hospitality, healthcare, retail, warehousing, aviation, food processing, transport, education, government and mining.
Its products include:
Kaivac Omniflex Autovac System
This can be transformed in minutes into an automated high performance floor machine that rivals the performance of an autoscrubber – at a fraction of the cost.
The system is ideal for high speed cleaning of hard surface areas, such as hallways, cafeterias, lobbies, warehouses, fitness centres and more.
It's as fast and effective as an autoscrubber without the added cost or complexity, making it perfect for building service contractors and facility managers alike.
Numatic PPH320A
The new PPH320A HEPA vacuum cleaner from Numatic offers many advanced features such as their AutoSave energy conservation system, Twinflo motor, double plugged rewind system, plus a Hepa filter module achieving an exceptional H14 – 99.997 percent standard, down to 0.3 micron particle size.
Numatic cordless cleaners
Intervac will soon release two new battery operated vacuums from Numatic.
This includes the NBV190/2, incorporating a specially designed 36V lithium polymer battery pack. Looking very similar to Henry, this 8L vac comes with two batteries giving a total run time of one hour.
Its dedicated universal charger ensures you are back cleaning in 3.5 hours.
The RSB140/2 cordless back pack can be used in difficult situations with exceptional results. This includes stairways, congested areas, busy pedestrian zones, cleaning aircraft, buses and cinemas.
Weighing just 7.3kg, the machine comes with two lithium polymer batteries, each with a 30 minute run time. An integrated hand control module allows instant on/off operation and can monitor battery reserve as you work.     
Inter Vac Australia
Ph: 08 9410 9588