MAJOR MACHINERY PLAYERS ATTEND TIMTOS 2015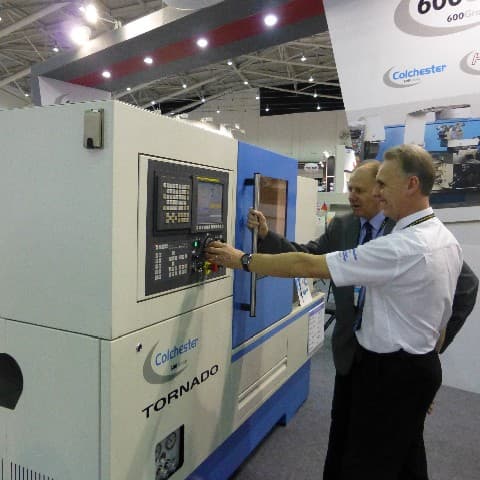 Most workshop managers in the world's manufacturing and engineering industries are aware that 600 Group is Europe's biggest manufacturer of lathes.
So it was not surprising the company was a major exhibitor at the huge Taipei International Machine Tool Show TIMTOS 2015 in March.
Some 46,000 visitors attended the biennial event, which featured 5,411 booths over 100,000sqm.
Representing Australia were the managing director of 600 Machine Tools, Cliff Purser, and the sales manager for SE Asia, Steve Drummond.
The two Sydneysiders worked alongside Trevor Matthews, a specialised applications engineer from 600 UK Ltd  – a 600 Group company.
Visiting from the US was the president of Clausing Industries – a 600 company – Kalamazoo-based Don Heselton, along with Clausing vice president Kevin Mungovan.
The international sales manager of Electrox Jim Leach brought news of the 600-owned company's February merger with TYKMA of Ohio, US, thereby creating a global market leader in the field of laser marking and engraving.
Steve Smith, the international sales manager of Gamet Bearings – the UK's largest manufacturer of precision-taper roller-bearings – was on hand to meet current and prospective customers.
Mr Mike Berry, the managing director of 600 UK, also attended.
Mr Berry noted it was not only prospective buyers who examined the 600 Group's large offering.
"I could not help noticing that many of our competitors made a point of very closely examining the machines we had on display. We take that as tribute to our century-old reputation for industry-leading innovation and design, and excellence in engineering and build-quality," he said.
"However, I was somewhat surprised when a respected figure in the industry whispered in my ear that, in his view, the Colchester Triumph VS2500 was the 'best in show.'
"My surprise was not that it was about this excellent centre lathe, but about the source of the compliment."
The TIMTOS show was the regional launch-pad for the new Tornado T6M series, described by Mr Berry as "the most advanced and capable range of modern turning-centres that money can buy."
"These CNC turning centres offer high capability, productivity, and accuracy but, above all, consistency of finished product," he said.
In addition to the "all singing all dancing" top-of-the-line machines, there is the Tornado EL range with either chuck or bar-feed configurations.
The 3-axis Tornado T6M has a bar capacity of 52 mm and swing over bed of 440 mm. Giving a substantially improved maximum turning length of 420 mm and maximum turning diameter of 215 mm.
These machines have a fully programmable C-axis, complete with disc-brake spindle clamping, and have been designed to add radial and axial milling, drilling, boring, and tapping capabilities to the globally-popular Tornado range.
Unique to Colchester-Harrison, the Tornado T6M's Duo-Stable construction improves thermal and dynamic stability, while Fanuc digital drives and powerful high-torque spindle, with extremely-fine positional resolution, ensure exceptional accuracy and efficiency.
The T6M's control system features – as standard – Fanuc's latest full-colour OiTD flat-screen with Colchester's uniquely tailored Manual Guide i.
The machine demonstrated at TIMTOS was ordered for delivery straight after the show.
After returning to Sydney, Mr Purser said: "The new Colchester Tornado T6M 3-axis CNC turning centre delivers driven-tooling productivity to even the smallest machine shop, and is an ideal choice for anyone who wants to consistently perform precision turning, milling, and multiple operations."
There was quite a stir when 600UK finally took the wraps off two new members of the Harrison Alpha XS Series, the powerful 1660 and 1760 models.
The renowned Alpha range has been a legend in the world's engineering workshops for several decades, and the XS Series is designed, engineered, and built to exacting tool-room accuracy standards (DIN 8605).
All models are noted for their infinitely-variable speed, and now have significantly enhanced technical features – with up to 85 improvements across the range.
The two newcomers have been designed to cope with the demands of "oil country" work.
As visitors to TIMTOS clearly saw, the 1660XS and 1760XS are sturdily built to withstand demanding heavy-duty use, and to give years of reliable service with the minimum of maintenance.
Mr Purser said: "Whether you need the grunt of the two new models, or the high-quality repeatability and superb surface finish of the proven smaller models, you will find the right machine at the right price in the Alpha range."
He added: "Every one of our products is backed-up by a fully-comprehensive service and spares facility.
We still stock – or have rapid access to – spare parts for products built more than 50 years ago.
The Colchester Triumph VS2500 is a 400 mm swing lathe with a 7.5 kW drive, and provides precision, power, and durability – complemented by a host of innovative features that are built-in to give years of lasting performance.
The combination of Constant Surface Speed and the electronically infinitely-variable speed spindle-drive gives this machine – the world's "best known" manual lathe – a cutting performance better than many CNC lathes.
The high quality specification of the VS2500 centre lathe makes it ideal for most toolroom, maintenance, and production applications.
Standard features include: constant power, three range variable-speed drive from 14–2500 rpm, a 1250 mm gap bed, a 400 mm swing over bed, and a D1-6 Camlock spindle.
Mr Drummond noted the interest in this well-proven machine from the tens of thousands of buyers from South East Asia. "It's a top choice in Europe, and now it is exciting workshop managers in Asia."
As anticipated, one of the biggest talking points of TIMTOS was the truly remarkable Gripfast Power Chucking System from Pratt Burnerd – a 600 Group company.
The ingenious design provides CNC lathe customers with chuck, collet, or mandrel work-holding modes that can be set in seconds.
This breakthrough design – by engineers, for engineers – ensures high-speed, high-accuracy turning, and rapid component changeover.
"The Gripfast dramatically reduces unproductive time when changing or resetting power-chuck top jaws," said Mr Purser.
He suggested that many workshop managers would continue to be a 'Doubting Thomas' until they had watched the system in action. It can be viewed at https://www.youtube.com/watch?v=ePqJS3_iPqQ
Mr Purser added: "Another important breakthrough from Pratt Burnerd is the new Gripsafe. It enables operators to effortlessly measure chuck gripping-force, ensuring safety and peace of mind for operators, trainees, and workshop managers."
As users of today's machine tools demand and expect to get unvarying precision, the need for Gamet Bearings increases proportionately.
A 600 Group company, Gamet is the UK's largest manufacturer of precision-taper roller-bearings, and has been manufacturing ultra-precision bearings since the early 1950s.
Originally formed to provide products for the machine tool industry, Gamet has expanded its range into many other industry sectors where the highest level of precision is required.
It makes precision ball-screw support bearings, cartridges, and blocks to meet the ever-increasing demands for accuracy placed on linear movement and positioning – a key factor in factory automation.
Nowadays, the term "use only OEM spare parts" sends a shiver down the spine of suppliers of "lookalike" components.
Increasingly, OEMs are using laser marking systems to ensure that their product – such as spare parts – are not confused with sub-standard imitations.
Additionally, permanent marks remain readable, long after stick-on labels have peeled-off, or spray-on instructions have rubbed off.
At TIMTOS, visitors received information from Jim Leach about the worldwide success of the EMS Workstation family and the recent extensions to the range – the EMS 400, the largest workstation in the family, to a smaller desktop model, the EMS 150.
Mr Leach was astounded by the response at TIMTOS.
"Without question, Taiwan needs a high-quality supplier of laser-marking systems, because the country's industries have grown weary of cheap but unreliable systems," he said.
"In 2015, Electrox is giving customers the biggest choice yet in finding the system most suited to their laser-marking requirements. The range now includes the Raptor and Scorpion Rapide fibre lasers and the Cobra CO2 laser range."
The entire 600 team at TIMTOS took the opportunity to review the latest developments in UK, Europe, and Asia-Pacific.
These included:
·       Pre-release briefings on many new products in development, and focusing on products due to hit global markets within the next 12 months.
·       Expansion across the Asia-Pacific region, with regional headquarters based in Sydney.
·       The imminent confirmation of a distributor in Thailand – following a successful trade show in Bangkok – and distributors in Korea, Indonesia, and Vietnam.
·       The greater distribution channels opening for Electrox products in the wake of its merger with TYKMA of Ohio.
·       The ability of the 600 "family" to source world-class products from around the world, thereby ensuring that customers are offered the best possible price-benefit ratio for every purchase.
·       The continuing absorption by 600 engineers of detailed product knowledge – for example in CNC systems and automation – to ensure that customers are able to get the optimum performance out of every machine purchased.
600 Machine Tools
Ph: 02 9674 4738