Major export award for medical device manufacturer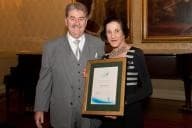 Barry Thomas, Asia Pacific Managing Director of Cook Medical Australia, has been recognized for his contribution to exporting.
Mr Thomas was one of seven recipients of the prestigious 2012 Australian Export Hero Award.
The awards, created just over ten years ago by the Australian Institute of Export, recognise the people behind companies that achieve outstanding export results. 
Cook Medical Australia manufactures and exports advanced medical devices including endovascular grafts used in minimally invasive vascular surgery for the treatment of aortic diseases, and innovative products for In-Vitro Fertilisation (IVF).
Despite the strong Australian dollar and tough economic times for Australian exporters, Mr Thomas led the Australian based business to deliver double digit growth and exports to over 135 countries.
About 80 per cent of what is manufactured by Cook Medical in Australia is exported.
A 20-year veteran of the medical device industry, Mr Thomas is passionate about high-end Australian manufacturing and is a staunch supporter of local R&D.
Since its creation in 1997, the Australian Institute of Export has invited ninety-four of the country's leading exporters to join the Australian Export Heroes register.
Recipients are drawn from all export sectors and include children entertainers The Wiggles and mining magnate Gina Rhinehart.