Major celebration for Major manufacturer
31-08-2010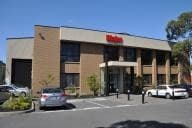 State-of-the-art … Major's headquarters at Clayton, Victoria
For the past century Major has been providing innovative engineering solutions to Australian industry.
The Melbourne-based company provides products and services in the fields of thermal and mineral processing, refractory, fluid power technology and equipment safety.
Major supplies thermal and fluid power technology to crematoria, heavy industrial, mining, petrochemical and utilities sectors both in Australia and Internationally with a broad range of products and services.
Best known for the engineering and manufacture for medium to large scale mechanical and thermal capital equipment and services, Major has developed its capabilities to include fluid power, plant automation and safe access systems.
Products can be specifically engineered to suit the most demanding requirements.
This year marks a major milestone in the company's proud history.
The company is celebrating 100 years of service since Sidney Major founded the business in 1912 in the Melbourne suburb of Toorak. 
From its humble beginnings as a motor vehicle sales and service company, Major has grown to become a major force in Australian manufacturing.
Soon after its establishment Major branched out into designing and manufacturing waste oil burner equipment and simple oil fired furnaces.
During the late 1980's Major diversified their thermal process equipment business and purchased the company Oilways (now Major Sales and Service) a specialised company for hydraulic, pneumatic and lubrication systems.  
This acquisition enabled Major to offer a more comprehensive service.
Colin North took over Major in 1986 and spearheaded a restructuring of the company. 
A period of rapid growth in the early '90s saw Major win awards for the 7th fastest growing company in Australia in 1992 and the 56th fastest growing company in 1995.
In late 2005, Colin handed day-to-day operation of the company to his son Andrew. Since then, the company has expanded its service and spare parts divisions with the addition of new service personnel, products and services in combustion, refractory, hydraulics and lubrication.
Major now boasts three distinct business units:
Major Furnace Australia
Major Project Engineering
Major Sales and Service (Fluid Power)
"Our aim is to provide customers a 'one stop shop', many pieces of equipment and plant have multiple systems on board, whether they be electrical and PLC, hydraulics, pneumatics, lubrication, combustion or refractory and wear linings," says Andrew. "Through its in-house resources Major can design and service all of these systems." 
In recent years, Major has been appointed sole import and distribution rights for a wide range of lubrication equipment, TLS Tecnolubrisystem Centralised Lubrication Systems and Alconz single point greasing units.  
Along with Major's long standing brands OilRite, PurgeX and Kowa, Major now has an extensive range of automated lubrication equipment for the Australia Pacific region.  
Andrew Wight from Major says: "We can lubricate pretty much everything on any kind of equipment or plant, from a single point on a fan bearing to dozens of points on a large piece of plant.  In fact, the TLS system can be connected to 300 points from one machine.  
"Major's PurgeX systems save customers thousands of dollars in non wasted oil by spraying targeted shots of oil or grease directly onto the chain rollers and pins rather than spraying or brushing oil onto the entire chain.
"The systems save money, downtime and allow difficult or dangerous to reach lube points to be lubricated without removal of guards or process shutdowns."
Major Furnace Australia Pty Ltd
Ph: 03 8558 1800