Materials Handling & Equipment
MAINTENANCE PLATFORMS MOVE EASILY AND STAND FIRM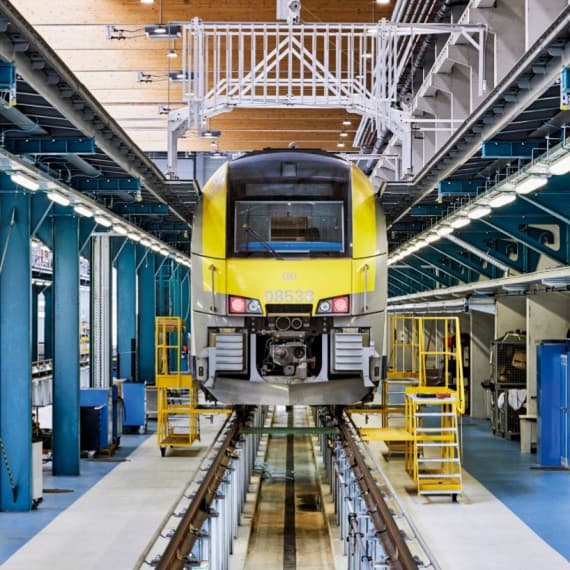 Industrial work platforms should be easy to move, but they need to stand firmly when someone is working on them. Because Tente's Alpha safety castors come with wheel locks they answer both these requirements when used in work platform designs.
SNCB is the Belgian national railway company and has a number of maintenance facilities for its trains. In one of these, at Arlon in SE Belgium there are around 125 workers who are tasked with cleaning, servicing and repairing railway carriages. This involves the use of large, mobile, rail-guided work platforms that are moved along the maintenance line to allow optimum access to all the external surfaces of the carriages – roofs, walls, doors and windows.
One of SNCB's top priorities is to continuously improve working conditions in these facilities, especially the health and safety of the workers. This includes preventing accidents and optimising ergonomics to reduce musculoskeletal disorders.
The maintenance platforms are an integral part of this. They must be easy to move and provide workers with complete, convenient and comfortable access to the different parts of the carriages, often while carrying or handling heavy or awkward cleaning equipment.
However, once in position, the platforms shouldn't move at all when anyone steps onto them. The company found the solution to these requirements in the Alpha safety system from Tente.
The castors' outstanding running properties allow the platforms to be pushed into position effortlessly, and the integrated locking system ensures maximum safety in the workplace.
Just like those used in airport luggage trolleys, the castors can only be moved when the user keeps the operating handle pressed. As soon as the handle is released, the castors automatically lock and the platform immediately stops and stands as steady as a rock.
Ergonomically, the wheel lock handle is at shoulder height, and so is easy to reach and comfortable to operate.
The wheel lock cannot be released unintentionally, for example if an employee with a heavy object accidentally hits the platform or even the operating handle. The operating element and the brake are connected via a Bowden cable, which is protected from damage by a steel tube. The force required to operate the handle has been precisely set so that it is not possible to release the lock accidentally.
The results of the new design of work platforms have been universally positive. And, thanks to the Alpha safety system, the health and safety record at SNCB's Arlon maintenance facility has been markedly improved.
Tente Castors & Wheels
1300 836 831
www.tente.com.au