MAINTENANCE - THE KEY TO LOWERING THE COST OF COMPRESSED AIR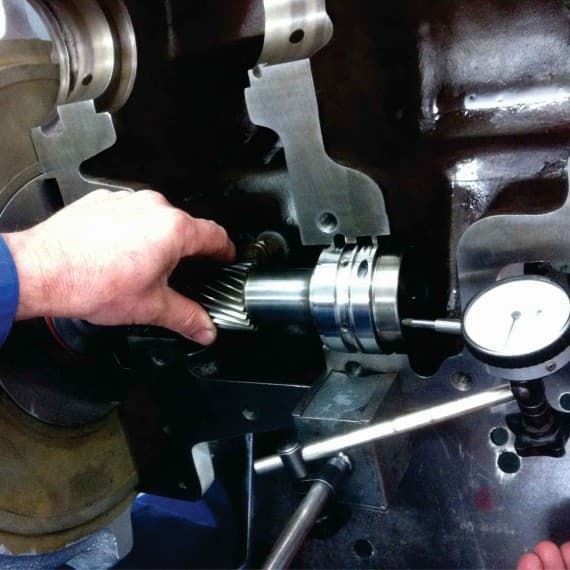 Regular maintenance is essential
If you have made a considerable investment in a compressed air system for your business, then you know the costs of running it… or do you? With energy prices escalating at an alarming rate, the cost of generating compressed air to meet industry demands is impacting bottom lines to a greater extent than ever before. And while it's virtually impossible to control energy pricing, it is very possible to reduce or at least stabilise those costs.
Air compressors are complex machines, and wear and tear will adversely affect performance over time resulting in less efficient air output and delivery. Although every machine will eventually reach the end of its economically viable life, conducting regular and predictive maintenance will greatly extend that life.
Lack of consistent inspection and regular maintenance of compressed air systems invariably leads to inefficient and costly system performance and premature breakdown caused through:
• Blocked filters and separators increasing power consumption
• Increased oil carryover due to elevated temperatures
• Reduced air quality due to poorly maintained line filters
• Poor lubricant condition
• Joint and seal leaks
Regular inspection, testing and adjustments by professional technicians will definitely save a great amount of money on the costs of running the entire system and ensure reliable output to meet your demands. Fact is, the savings made from energy conservation and minimal downtime over the life of the equipment will far outweigh the servicing costs required.
It is quite remarkable how many breakdowns could be avoided through scheduled maintenance. Many compressors break down simply because fluids and filters are not changed at the right intervals, replaced with low-cost spares or preventive checks are not made before major problems arise.
From a safety point of view, poorly maintained compressors can significantly increase the risk of incidents that with regular servicing would otherwise not occur.
"We are very aware how important it is to all compressed air operators to maintain a highly reliable and efficient system," says Shane O'Brien, National Service Manager at Southern Cross Compressors.
"Businesses that operate on compressed air cannot afford to have the system falter or stop. We are also mindful of the fact that every client has different needs and to this end we have created flexible service plans that cater to individual requirements including budgetary considerations. We also provide a 24/7 national support network."
If you are unsure as to the state of your compressed air system, then Southern Cross can perform a simple air leak survey or total system audit using the latest leak detection and system testing technology. The ensuing report will often uncover a surprising potential for huge savings on energy bills after repair or replacement of faulty components.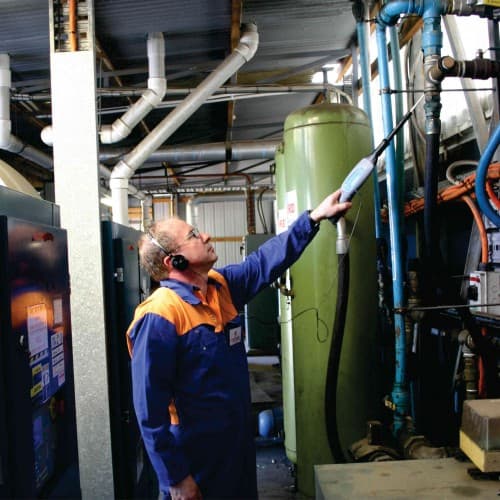 A system leak test can uncover huge savings
Regular professional servicing and preventive maintenance of your compressed air system also ensures you will know when to replace or upgrade your compressor and/or ancillary equipment before it reaches the end of its economical life.
This provides the opportunity to install advanced technology compressors and equipment that has been designed to run at significantly lower energy input than equivalent older machinery. Southern Cross now offers one of the worlds widest selection of compressor types and sizes to suit specialised industry requirements.
O'Brien adds: "Our service technicians are trained to identify and advise our clients when continued repairs and maintenance on old equipment gets to the point when replacing the compressor with an equivalent or upgraded model simply makes Economic sense. Our new rotary screw compressors and particularly our two-stage models supply a higher air output with less motor capacity which saves a lot of energy over a relatively short time."
"The option of variable speed drive technology means your compressor will only run at the capacity needed to meet scheduled production demands," says O'Brien. "This means a lot less unnecessary wear on the compressor and system and an even greater saving in energy costs throughout the life of the system."
O'Brien concludes: "I welcome anyone wanting professional advice on setting up a maintenance programme or wishing to upgrade to the latest compressed air technology to reduce their energy bills. Due to the superior engineering in these compressors, Southern Cross also offers a unique 'Lifetime Warranty' on the airends in all our KHE rotary screw models."
Now more than ever manufacturers need to be extremely vigilant in maintaining their compressed air systems to ensure maximum output with the lowest possible energy cost. Regular professional maintenance of current systems and upgrading to new energy-efficient machinery will ensure that compressed air is a convenient and effective power source for industry both now and in the future.
Southern Cross Compressors (Australia)
1300 098 901
www.southerncrossaircompressors.com.au