| Article appears in November 2019 Issue
MAINSTAY OF MANUFACTURING CELEBRATES THREE SCORE AND TEN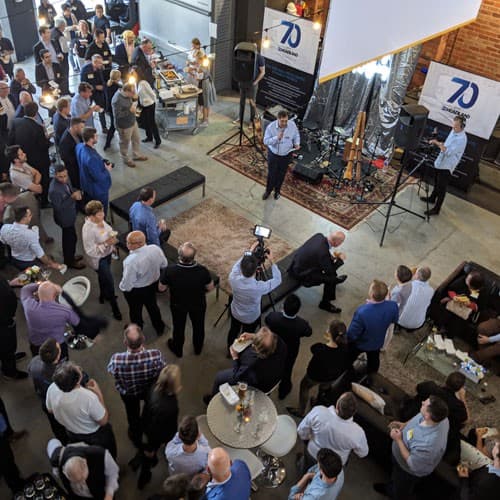 Headland CEO George Yammouni addresses the crowd
Headland Machinery has celebrated its 70th anniversary as a mainstay of Australian manufacturing. The commemorative event was combined with the company's annual Oktoberfest celebration, attended by many representatives from manufacturing industry as well as politicians from local, state, and federal government.
Joining the business and political dignitaries in the room was AMTIL CEO Shane Infanti, who articulated the exciting vision for the future of manufacturing in Australia.
Guests were taken through the story of Headland's journey from a modest parts and machinery operation when the Kloe family first acquired it, to the leading-edge technology solutions company it has become today.
When the automotive assembly sector wound up in 2017, many people thought the Australian manufacturing story was dead and buried, but as the story of German migrant, Peter Kloe, indicates, it's about to enjoy a resurgence.
When young toolmaker, Peter Kloe, finished his apprenticeship in 1956, he left Kassel in Germany for what young people today might call a 'gap year'.
Hitchhiking and staying in youth hostels, Kloe wound his way through Switzerland, Italy, Greece, Turkey and France. It was in Cannes that he had a fateful meeting with a bunch of Americans, Canadians and Israelis who did some heavy spruiking for Australia.
After returning to Germany, Kloe made some cursory investigations and soon lodged some papers for Australian citizenship. In 1957 the young toolmaker arrived on Australia shores on the Flamingo with a glint in his eye and lint in his pockets.
There was no inkling that 50 years later, Peter Kloe might reflect on an amazing journey from the shop-floor to CEO, to a leader in Australia's manufacturing sector. And that the business he built with his wife Di, would then be inherited by his children, Richard and Annaliese.
After disembarking from the Flamingo, he spent seven weeks at Dhurringile internment camp learning English. Shortly after leaving, Kloe landed his first job as a toolmaker on the factory floor at Astor Corporation.
The workplace culture then was not exactly to Kloe's taste, notably how the lunchbreaks were sometimes spent.
"When lunchtime came along, a lot of the guys went to the pub and started drinking. Some guys were having six pots," said Kloe.
"I went there with them once, but that was enough. I wanted to concentrate on getting ahead."
Kloe set his sights on moving into production engineering and started going to night school. Two years later he went from the factory floor to the office floor, and henceforth began Peter Kloe's ascent toward the commanding heights of Australian manufacturing.
Kloe saw great opportunities in Australia, but also something of a sleepy hollow.
"We used to go to St Kilda in those early days, desperately looking for a decent cup of coffee, which we found at a little Jewish place," said Kloe.
'There were no buildings higher than four floors, which my friends and I thought was amazing."
Soon the lure of adventure tempted Kloe again, and after meeting and marrying Di in 1963, the couple headed overseas where Kloe would cut his teeth in the world of high-tech manufacturing and production methods.
The couple hitchhiked across Europe before settling in Germany for three years where Peter Kloe found work as a Product Engineer at engineering giant Siemens. They then moved to North America for six years, with Kloe working as a production manager at Ford and Boeing.
Planning on building a family, the Kloes decided to return to Australia. In the back of Peter's mind was a developing thought about bringing European and American manufacturing technology to Australia.
An opportunity arose to put that into practice in 1979 when Ted Headland, owner of Headland Machinery, was looking to sell his machinery and small parts business. Henceforth began the rise of Headland Machinery as one of Australia's pre-eminent machine technology outlets.
Headland was one of the first manufacturing outlets to bring in CNC machines, with Di Kloe writing paper tape to feed into them to cut metal to shape!
Today, the technology on offer at Headland seems almost to belong to the realm of science fiction: 3D cutters and printers, machines that can make complex parts for steam engines in the time it takes to boil pasta, parts that materialise from dust and lasers, computerised vertical storage units.
Headland sits at the leading edge of machine technology solutions, servicing such Australian and global giants as Siemens, Qantas, and Cochlear. More recently, under the stewardship of Peter and Di's children, Richard and Annaliese, they have added information technology to the suit of products and undergone a significant growth phase.
Like Peter Kloe, Headland is very much a local product operating in a global environment. Headland's service engineers are sent overseas for training, and return with full knowledge of the products and their capacities; a key component of Headland's success.
The tradition of successful, multi-generational, migrant business families in Australia has some rich heritage. While the Kloes don't have anything like the profile of a Myers or Smorgon family, their role in the manufacturing supply chain is significant and only appears set to grow.
Headland Machinery
1300 592 061
www.headland.com.au