MAGNETIC TAPE CARTRIDGE HOUSES 30TBYTE OF IOT DATA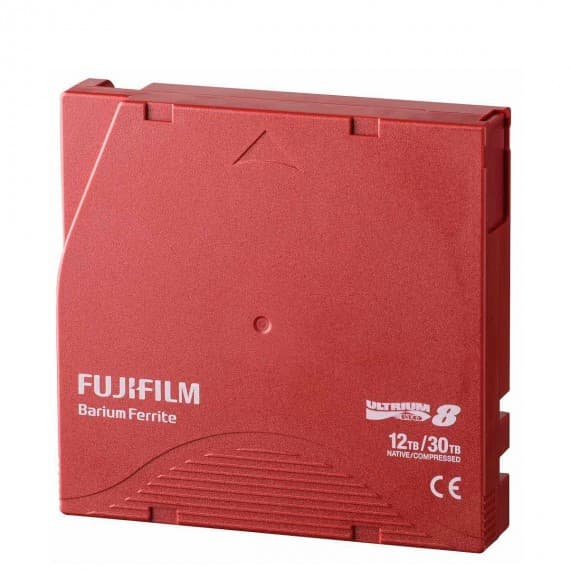 The use of magnetic tape for data storage is still alive and set to thrive in the age of big data from the IoT. And now Fujifilm has increased the capabilities of the medium with the release of its LTO-8 data cartridge, promising twice the capacity of its predecessor.
The LTO Ultrium8 data cartridge (to give it its full title) follows 8th-generation LTO Ultrium standards for magnetic tape storage media, and uses barium ferrite (BaFe) magnetic particles for top recording/retrieval performance and long-term durability.
The cartridge offers a storage capacity of 30Tbyte (or 12Tbyte for uncompressed data). And data transfers run at 750Mbyte/s (360Mbyte/s for uncompressed), making it quick as well as large.
Magnetic tapes have been used in data centres and research organisations for many years for their large storage capacity, low cost and long-term storage performance. And, as the recorded data are physically separated from the network, they provide "air gap" data protection, providing a backup in the event of data damage or loss caused by cyber attacks.
Now, magnetic tapes are expected to be used in cutting edge research fields that generate a large amount of data, such as AI and IoT-based smart manufacturing to achieve high-quality and highly efficient production.
Fujifilm has developed fine BaFe magnetic particles with outstanding magnetic properties and long-term storage performance and launched the world's first commercial BaFe data storage cartridge in 2011.
In 2012, the company launched LTO-6, the first LTO Ultrium standard data cartridge product using BaFe magnetic particles. Foreseeing the capacity limitations in the traditional metal magnetic particles, Fujifilm's early commercialisation of BaFe magnetic tapes has allowed the company to consistently lead the market.
The tape in the LTO-8 cartridge is 12.65mm wide, 960m long and just 5.6μm thick.
Fujifilm Australia
1800 226 355
www.fujifilm.com.au