Magnetic crawler attracts great interest
31-08-2010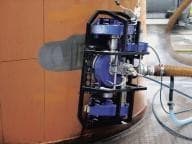 Serpent & Dove – Applied Magnetics is a long-time specialist in magnetic lifting and clamping.
The company offers the latest magnetic technology applied to cleaning and safety, tramp iron magnets and magnetic separators. 
Serpent & Dove is known for its own innovation. It searches the globe for helpful and worthwhile magnetic innovations to improve customer's productivity and profit. 
Now, in conjunction with Smets Technology of Germany, Serpent & Dove offers the Smets Magnetic Crawler. 
Magnetically retained to a ship hull, large steel plate or the wall of a large tank or vessel, the Smets Technology MC-250 Magnet Crawler crawls up, down or sideways across the surface directing high-pressure water or other cleaning media for cleaning of any large steel area. 
In the case of a ship, almost all areas of the hull can be treated horizontally or vertically from overhead positions. 
Eight permanent magnet assemblies, which ride just off the steel surface, secure the crawler with a force of approximately 10,000N. 
The Crawler uses two pneumatic drive modules to ensure mobility and manoeuvrability. 
Required cleaning apparatus is mounted between the drive modules. 
The MC-250 Crawler can be made available with or without a vacuum system, to suck away the released dirt, scale, paint and growth. 
In 2008 Dubai Drydocks commissioned a study of the technique with the aim of reducing large ship lay-time by 20 per cent. 
The study showed that instead of working as many as 16 manual blasting guns with cherry pickers, just 8 MC-250 magnetic, semi-automatic crawlers could achieve the same results and performance levels were increased by more than 40 per cent using the same pump capacity whilst ship lay-time was considerably reduced. 
Serpent & Dove - Applied Magnetics Pty Ltd
Ph: 02 9971 7577