Published 06-06-2019
| Article appears in June 2019 Issue
MADE IN AUSTRALIA WITH GLOBAL SUPPORT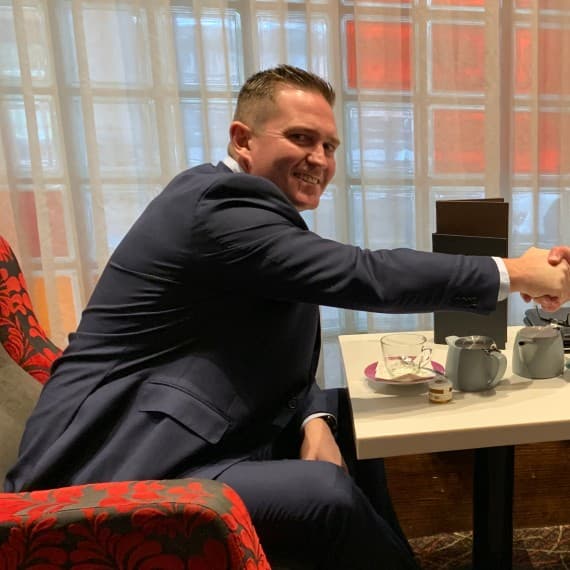 Much has been said and written about skills shortages in Australian manufacturing. But when one manufacturer realised that the staff he couldn't find locally were all in "behind the scenes" roles, he decided to look further afield.
Laurence Marchini spoke to The Lamson Group CEO Rodney Frost to find out how his company found a solution to its skills shortages and competitive challenges, and how this business model might suit other Australian manufacturers.
LM: What exactly was the problem?
RF: Our local manufacturing businesses are run using industry specific software that allows us to integrate with our business partners to automate the process. Ten or so years ago the software skills required were in great demand locally and we honestly couldn't afford what some of these people were being paid and we struggled to even find them.
We also had some very clever people in our team that were not able to succeed on high-pay-off tasks as we had a lot of low-value tasks that still had to be done. Our team were not as engaged on the mundane tasks and we had to give them the best opportunity to succeed.
There had to be a better way if we were to be the last man standing!
LM: But you wanted to keep the manufacturing operation in Australia?
RF: Absolutely yes, the whole strategy was about thinking globally to ensure we could run a sustainable business here and keep our 70-plus team members gainfully employed. We also had to compete against other companies that had moved their operations offshore.
LM: So, where did you look?
RF: I took this challenge to the TEC group that I was in and we agreed that the only options were either to outsource the work or to set up a dedicated business in another country that had the skills that I required. So I personally conducted a three-month study on India, China, Vietnam, Malaysia and The Philippines.
LM: What were the key criteria when selecting a location?
RF: The main criteria for us at the time were that we needed the right skills, the right culture, great English and a business partner that we could trust. And that led us to The Philippines.
LM: What about the cultural differences?
RF: That was actually a key factor in the decision. We realised that the cultural differences in the other countries we looked at would present challenges and additional costs to overcome.
The cultural differences between Australia and The Philippines are minimal in comparison.
In particular, the quality of English is far superior, which leaves for less interpretation when using voice or video for training and meetings.
The value systems within Filipinos are very similar to Australians, and I believe that is a direct result of our aligned cultures.
Filipinos are loyal people that want to provide for their families and they are grateful for the opportunity to work. With over 6% unemployment and a population of more than 105 million there is an abundance of skilled people ready to work. Over 1 million people have a degree in something and they're actively seeking employment.
LM: What are the barriers to setting up an operation like this?
RF: Setting up a business in another country is never an easy task.
In The Philippines there is a guide to setting up a business and it's 116 pages long. It doesn't cover all of the requirements either.
You need to decide on the ownership structure and who the directors will be. There are restrictions on the numbers of foreign directors and foreign ownership.
Will there be Power of Attorney signed or will your representative travel to sign the required documents, which is a regular occurrence? Who will be your lawyer in The Philippines?
You need to understand the Foreign Investments Act, The Corporation Code, The Labour Code, The Civil Code, The Tenth Negative List and the Foreign Equity Restrictions that apply. The list goes on!
There are also Paid Up Capital Requirements and minimum employee numbers that need to be employed in some cases.
LM: So, having invested so much time and effort in solving your own problems, you decided to commercialise the service and take Integrated Office Solutions to the global market. That's rather like letting others benefit from your experience isn't it?
RF: That is exactly what it is. Helping companies of all sizes fast track their global thinking and competitive strategies.
The entire experience of setting up was not easy and we learnt a lot. After about four years of operations we had our own colleagues and various networks asking if we could provide various other skills in our operation in Manila.
We started to do this with no vision or intention of growing as we have, but it didn't take long before we were hosting more people working for other companies than we had for our own Australian operation.
That's when we realised it was time to get serious as the need was growing!
LM: And what would you say to those who might accuse you of exploitation?
RF: Along with keeping jobs in Australia this is a topic that I'm very passionate about and when I table some clear facts people soon understand.
I'm a proud Australian and we love our Australian team, they are my family. We have never let a single person go because of our strategy. If we didn't have our own team (of 12) in The Philippines we would genuinely struggle to employ more than 70 people in Sydney.
Exploitation is defined as "the action or fact of treating someone unfairly in order to benefit from their work." The talented people that we employ work in first class sites and are paid very well for their skills in The Philippines.
Our team retention within our Integrated Office Solutions business is well above 90%, which is something we are very proud of. You will see some videos on our YouTube channel that echo the culture that we have that is something to be proud of.
To date none of our partners has let people go from their jobs from this strategy, and most have actually grown as a result. This is a part of the strategic value we offer as a part of our relationships. We know what works.
We also give back at Integrated OS. In Tondo we work with our partners to fund an entire school facility to enable over 300 children basic living and education programmes.
While they are at school their parents are given paid jobs under an NFP to ensure that all of the funds go back to the families that live in the rubbish tip known as "Smokey Mountain".
We welcome open and confidential conversations with anyone considering building a team in another country to help their business.
Integrated Office Solutions
02 9743 8577
integratedos.com