Published 04-04-2019
| Article appears in April 2019 Issue
MACHINING CENTRE TO IMPROVE PLASTIC PART PRODUCTION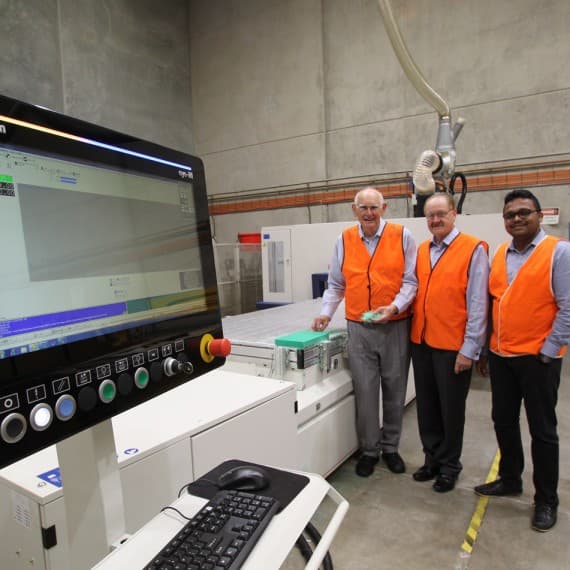 Cut To Size MD Laurie Green, National Sales Manager, Bill Novak and Technical Sales Engineer Swapnil Chavan check out the Morbidelli Author M100F
Advanced engineering plastics specialist Cut To Size Plastics has taken delivery of new advanced machining equipment that will enhance its ability to produce top quality light and strong engineering components and finished products.
Without missing a day's production, Cut To Size Plastics brought the new 3500kg Morbidelli Author M100F heavy-duty CNC router and machining centre from delivery truck tray to factory floor production readiness over two days at its Sydney headquarters.
The new high-speed, vibration-free Italian technology – chosen for its unmatched finishing quality and rapid production turnaround for the company's Asia-Pacific markets – was eased into place by truck, crane and careful planning as it threaded its way among ongoing production, coming to rest besides the machine it replaced, which was still working at full capacity until the switchover.
According to Cut To Size Plastics Managing Director Laurie Green: "This was a real team effort to ensure that the high-capacity new machine – which is about 6.5m long installed – could be efficiently threaded though busy factory floorspace among other high-tech machinery, then introduced into production without a hitch."
The new machine moved smoothly into production last month (March) to produce high precision, light and durable machinery parts and complete products. These parts and products are engineered from state-of-the-art plastic materials from the likes of Licharz, Gehr and Beck-Wefapress - international leaders in plastics technology, distributed in Australia by Cut To Size Plastics.
The new machine's advanced capabilities are directed at industries such as manufacturing, forestry, food and beverage, timber, mining and mineral processing, transport and process, production engineering and automation applications.
The new investment in Morbidelli machining technology complements the company's comprehensive CNC machining facility at its Yennora HQ, where it is coupled with GibbsCAM and SolidWorks software to optimise the company's ability to produce high-quality products from customer specifications and design briefs for local application or export.
The performance and flexibility offered by the new M100F includes a 60 per cent time saving in machining cycles compared with older technology. Morbidelli (part of the SCM Group) has a history of nearly 50 years of innovation in machining technology.
Benefits to Cut To Size customers of the new machining technology include cost-efficiency, quick changeover flexibility and consistently excellent attainment of global quality standards.
The machinery's rapid working cycle times and reduction of idle times also enhance Cut To Size's ability to cost-effectively supply high precision components from versatile engineering plastics including nylon, acetal, teflon, UHMWPE, HDPE, PVC and polypropylene.
These materials are widely used to substitute for metals in applications requiring light weight, ease and speed of handling for maintenance and parts replacement, low wear, and product contact applications, which also involve resistance to chemicals in the processing operations.
"This new machine is part of our ongoing investment in technology and skills to ensure we have the right people with the right tools to do a comprehensive job for our customers," says Green, whose company has been supplying engineering plastics to Australian and International customers for more than 40 years.
Cut To Size Plastics
02 9681 0400
www.cuttosize.com.au