Machine framing at its best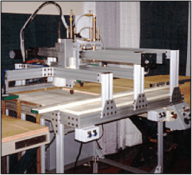 Sydney-based 80/20 Australia specialises in T-Slot aluminium extrusion.
The company offers an endless list of applications, that can be innovatively tailored to any industry or application required. This includes "out of the box" solutions, limited only by your imagination and creativity. 
Experts in all machine frame requirements, 80/20 Australia can provide solutions involving anything from casters, floor mounts to colour-coded accessories and customised mounting plates. They offer both standard and custom machine frames to suit any purpose. 
80/20 Australia machine frames feature a two-degree drop lock, which, when engaged, renders frames and fasteners vibration proof, for any sensitive applications. 
The drop lock is used in conjunction with casters for mobility purposes, which can lock equipment in a required location. 
Additionally, the nature of T-slot aluminium extrusion inherently provides the possibility of mounting and positioning any machine with more precision than any previous design. The T-slot of the profile further allows the machine to be quickly removed for maintenance or for use with additional components.
80/20 Australia
Ph: 02 9838 9900