MACHINE AUTOMATION CONTROLLER IMPROVES SPEED AND PRECISION
27-06-2017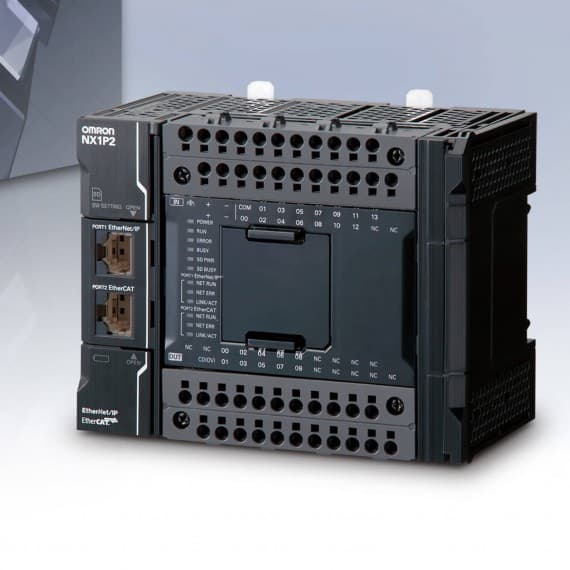 When it comes to machine control for small to midsize production machines, Omron's new NX1P comes equipped with state-of the art technology to meet the demand for efficient production of high-quality products.
Based on Omron's Sysmac (System for Machine Automation Control) platform, the NX1P features advanced motion control, with built-in Ethernet/IP and EtherCAT ports. Using the EtherCat real-time field network, users can connect up to eight servos, I/O devices, vision systems and other devices using just a single cable, thus reducing wiring work.
While the Ethernet/IP port is used to share data with a host PC, other controllers or the Internet, the IO-Link master unit enables monitoring of machine information, providing early warning of any error in the system.
The NX1P can increase a machine's speed and precision by controlling up to four synchronised axes achieved, providing functionality like electronic gear/cam and linear/circular interpolation. It is battery free to reduce machine maintenance, and features an SD memory card slot to restore, backup and verify data in the controller.
Now with up to two built-in option board(s) there is no need to increase the size of the control panel to add serial and analogue communications. This makes it an ideal compact controller with push-in-plus terminals for the I/O on the CPU unit, simplifying connection and saving wiring time. These features together with a fast execution time of 3.3ns make the NX1P an easy-to-use high-performance compact controller.
With technological advancement within automation industry, OEMs are moving from pulse I/O to EtherCAT based to motion control, and Omron's NX1P offers all the advantages of an entry-level controller with its all-in-one compact design and features.
Omron Electronics
1300 766 766
www.omron.com.au