LUCKY GRAPHITE STRIKE BRINGS LITHIUM VIABILITY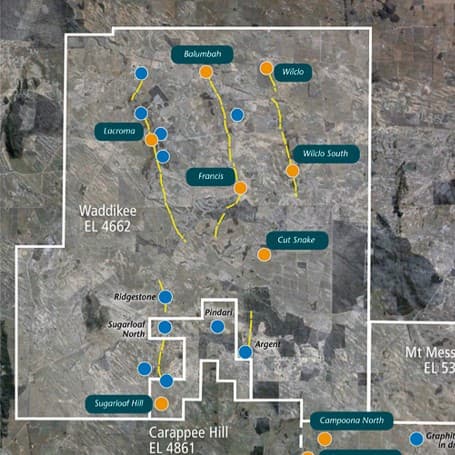 Overview map of Archer graphite operations on the Eyre Peninsula.
Archer Exploration has uncovered an extremely high-grade graphite deposit in the Eyre Peninsula of South Australia, with graphite carbon grades of almost 43% indicated.
The area surveyed was located near Archer's Cockabidnie tenement near Cleve, about 240km northwest of South Australia's capital Adelaide.
Assays of previous drill sites undertaken by Archer have reported graphite carbon grades of up to 42.8 per cent, making it the highest level recorded in the region. They also returned Cobalt grades of up to 0.2 per cent. Graphite levels this high are suitable for the manufacture of lithium-ion batteries.
The drill holes assayed by Archer are located just 5km south of the company's proposed Sugarloaf Graphite Processing Facility and confirm the southern extension of the Sugarloaf deposit.
Archer Executive Chair Greg English said having the potential feed source so close to the proposed Sugarloaf facility would be a significant boost to the efficiency of future operations.
"With the drilling that we've done today, the geophysics and the success we have had in the region already, we are quite confident we will find something significant but obviously more follow up is required," he said.
The new graphite finding was located northwest of Cleve near Sugarloaf Hill.
The company plans to mine about 10,000 tonnes per annum of graphite from the site with the intention of eventually doubling production.
English said Archer was positioned to have all the planning and approvals in place so the Sugarloaf processing facility and its nearby Campoona operations would be ready within 18 months.
Last year, a scoping study found Archer's 2873 sq km Eyre Peninsula Graphite Project to be economically sound, with an initial capital cost of $36 million.
The Campoona mine will source feedstock from the three deposits and is expected to generate net pre-tax cash flow of AU$21.5 million a year for a life-of-mine pre-tax net cash flow of AU$366 million.
The indicated life-of-mine revenue is estimated at AU$858 million over 17 years.
Graphite is a highly effective conductor of heat and electricity – it is also the strongest natural material in the world.
"Our graphite is unique and here at the Eyre Peninsular we are able to get a very high quality product," English said.