LUBRICATION-FREE LEAD-SCREW NUTS FOR QUIET LINEAR MOTION
05-03-2018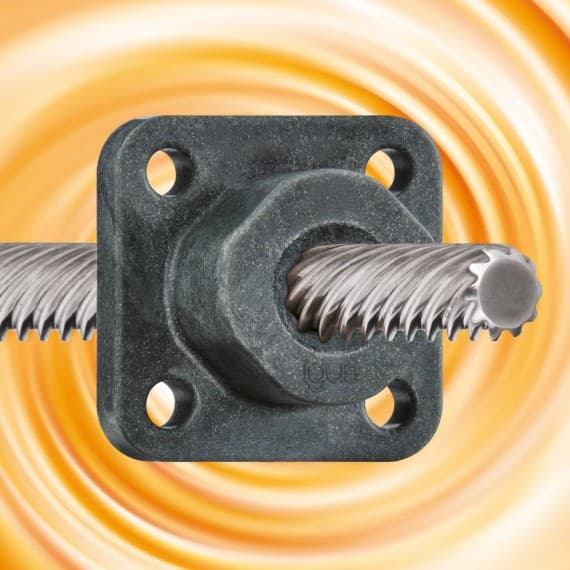 Igus has expanded its range of lead screw nuts made from iglidur E7 with a selection of trapezoidal and high helix lead screw nuts designed to provide smooth and low-vibration operation with low loads at high speeds.
High helix and trapezoidal lead screws are used in many applications where precise adjustment is required. These lead screw units traditionally consist of two components: the lead screw and the associated nut. At high lead screw speeds, lead screw nuts made of standard plastics or metallic alternatives often reach their limits, leading to vibration and noise.
By using iglidur E7, igus has created a range of nuts specifically designed for high-speed applications with low loads and compact dimensions. This makes them ideal, for example, for use in fully automatic coffee machines, 3D printers or even in laboratory technology.
The new iglidur E7 lead screw nut is made of a softer, high-performance self-lubricating polymer, and so there is no requirement for external lubricants such as oils and grease. The new material reduces noise while at the same time acting as a vibration-dampening device with a long service life (as proven in the igus test laboratory).
An in-house wear comparison test between iglidur E7 and the standard igus material for lead screw nuts showed that the iglidur E7 lead screw nut has four times higher wear resistance on a high helix lead screw and 19 times better wear resistance on a trapezoidal lead screw. (Tests carried out at 135rpm with a 100N load.)
Igus has also developed a new range of high helix lead screws, dubbed dryspin. These feature a flat flank angle, an asymmetric geometry and rounded tooth flanks to deliver high efficiency, low noise and low friction operation.
Treotham Automation
1300 65 75 64
www.treotham.com.au