LUBRICATED SCREW COMPRESSORS PROMISE EFFICIENCY GAINS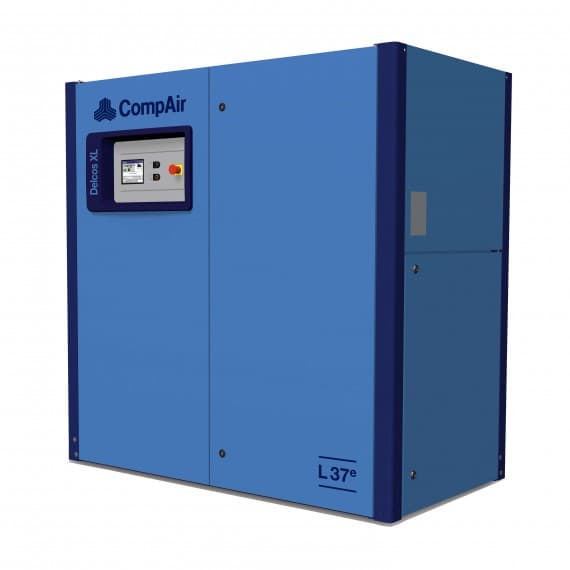 Gardner Denver reckons its new series of energy efficient oil-lubricated, rotary screw compressors, offering best-in-class performance in a compact design.
Part of the CompAir L-Series range, the new compressors are available in 30, 37 and 45kW models with a choice of fixed or regulated speeds. Pressure ranges from 5 to 13bar and volume flow is between 1.33 and 8.67m3/min.
'E' models of the range are also available, featuring a larger airend with optimised rotor tip speed. This can help operators achieve additional energy savings of up to 5 per cent.
All compressors are powered by IE4-IP55 motor and drive systems with a new, improved filter design that reduces running and maintenance costs. This also improves airflow to reduce pressure drop, with low idle power consumption for further savings.
At just 1.58m2, all units have a small footprint, making them ideal for installations where space is at a premium. The new design, however, still matches up connection points with previous models, to ensure a simple upgrade.
The new range also features low noise and vibration levels, meaning the unit can be situated closer to production environments with no need for special foundations, further reducing installation costs.
The new models come with a touch-screen control system with enhanced monitoring capabilities and which is fully integrated with Gardner Denver's cloud-based air management platform, enabling operators to easily manage, optimise and improve compressed air services. This also allows units to be monitored remotely, issues can be quickly resolved and performance is optimised at all times.
Gardner Denver Industries
03 9212 5800
www.gardnerdenver.com/industrials