LOW PROFILE FOR SCREW CONVEYOR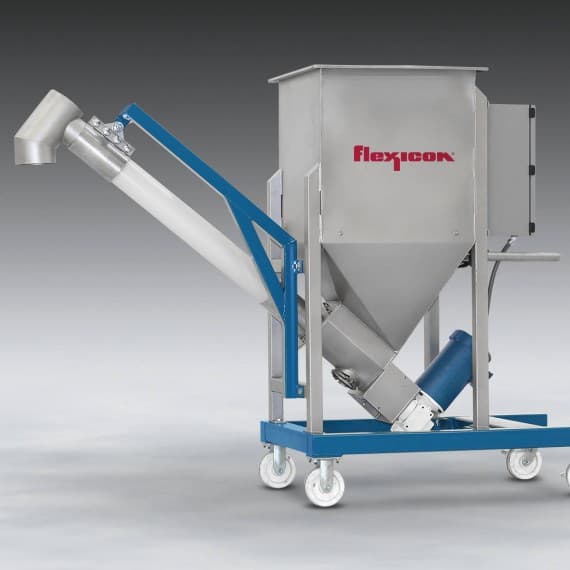 Flexicon has come up with a novel design of low-profile flexible screw conveyor with integral bin and castor-mounted frame that can be rolled below mezzanines and other low-headroom areas, receive material from overhead equipment, and discharge the material into process equipment and vessels throughout the plant.
Ready to plug-in and run, the self-contained unit uses a "push type" drive system positioned at the lower intake end of the conveyor instead of the standard "pull-type" drive positioned at the discharge end. This reduces the overall height by approximately 610mm.
The 250-litre bin accommodates around a third of a metre-cube bulk bag, or several typical 25kg bags, depending on bulk density. And the conveyor uses a Bev-Con screw that is engineered to move a range of difficult-to-convey bulk materials that tend to cake, pack, smear or plug, as well as fragile products prone to breakage, with no separation of blends.
With the exception of the polymer tube, all material contact surfaces are made from stainless steel finished to food, pharmaceutical, dairy or industrial standards for rapid wash down and/or corrosion resistance.
Flexicon Corporation (Australia)
1300 353942
www.flexicon.com.au