LOW-PROFILE CYLINDERS TACKLE HEAVY LIFTING DUTIES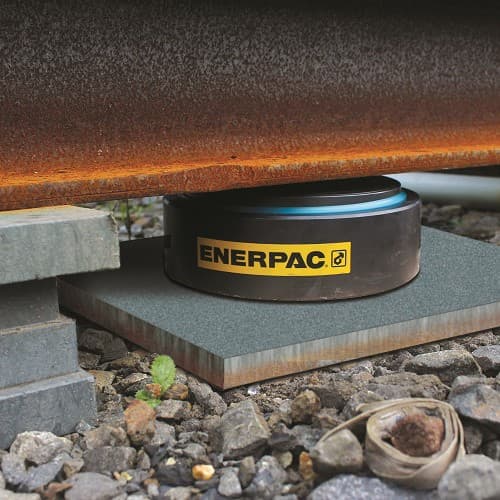 Enerpac has a new series of ultra-flat high-tonnage lifting cylinders with stop rings for reliability and safety. The compact and robust CULP Series 700bar lift ring cylinders – with capacities from 10 to 100t, and 6mm stroke – are designed for applications where high lifting forces and extremely low starting heights are required in confined spaces, starting at 2.8mm.
The cylinders weigh from 1 to 11.5kg, making them easy to put in place, and offer up to 4 per cent side load at maximum capacity, as well as incorporating stop ring protection for maximum stroke limitation to avoid damage and downtime.
The new cylinders also feature nitrocarburised surface treatment for harsh conditions, such as those encountered on applications such as construction and civil engineering, infrastructure, mining and energy, oil and gas, road and rail, tunnelling and safe lifting of heavy plant in electrical, manufacturing, maritime, water and waste water and fabrication projects.
"One of the big advantages of high-tonnage ultra-flat cylinders is that operators can stably and progressively lift the load from beneath, keeping it precisely balanced. Cylinders such as these also provide a lifting solution where access for overhead lifting is restricted or non-existent," says Enerpac National Sales Manager Darryl Lange.
The ultra-flat cylinder design has already been proved in harsh conditions in Australia, New Zealand and Papua New Guinea in the complementary series of CUSP cylinders, in 1-1000t capacities and with lifting strokes of 7-17mm (or 6-10mm with tilted stroke).
The nitrocarburised protection also features in the CUSP cylinders, providing sideload resistance and corrosion protection for safe use in the harshest conditions. The protection is also shared by Enerpac's new RLT low-height telescopic cylinders, which provide longer cylinder strokes of 17-40mm in confined spaces.
The new cylinders are complemented by Enerpac pumping solutions in more than 1000 configurations, proven throughout Australasia for applications prioritising speed, control, intermittent or heavy duty.
These include P series hand pumps, XC series cordless pumps, XA series air-driven pumps, ZU4 series portable electric pumps, ZE series electric pumps and SFP series split-flow pumps for multipoint lifting and lowering applications where uneven loads need to be positioned equally.
"Importantly for operators in remote regions or applications where downtime is very costly, all the new cylinders are backed in the field by Enerpac service from long-established and extensive technical support networks," says Lange.
Enerpac
02 8717 7200
www.enerpac.com.au