Low maintenance piston compressors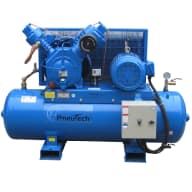 The Pneutech range of reciprocating air compressors offers economical solutions for factories and workshops with a varying requirement for compressed air at up to 1200kPa (175psi).
The Pneutech range consists of 5.5 kW (7.5 hp), 7.5 kW (10.0 hp) and 11.0 kW (15.0 hp) models to suit small to medium industrial applications.
Of simple, rugged design Pneutech reciprocating compressors are capable of giving long, trouble-free service with low routine maintenance costs.
Pneutech Australia
Ph: 1800 763 883