LOW-MAINTENANCE INSULATED TRAFFIC DOORS KEEP IT COOL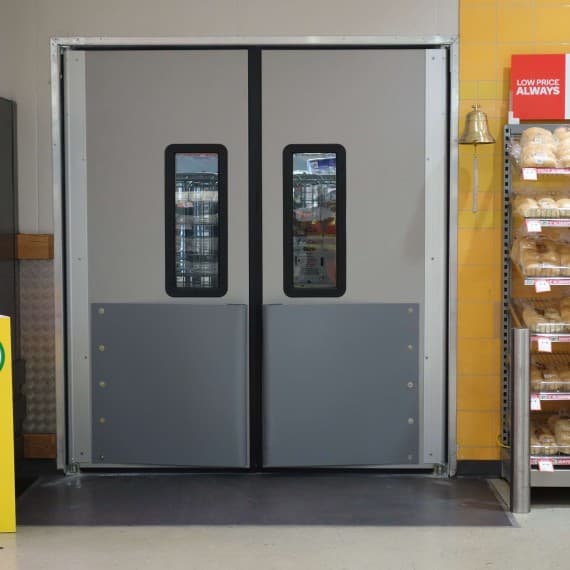 MTI See-Thru Insulated Traffic Doors provide a rugged low-maintenance solution to maintaining climate control between different internal temperature zones.
The strongly built 44mm-thick traffic doors are made with a rigid PVC framework, a high-impact ABS plastic skin, internal foam insulation and a full perimeter rubber gasket.
Their high-quality construction gives them high values of insulation, and the semi-ridged rubber sealing system ensures that drafts and energy loss are kept to a minimum.
Traffic doors are bidirectional, and are operated simply by pushing. They spring back closed as soon as the traffic has passed through, minimising the transfer of air between the zones they separate. This makes them ideal for use in laboratories or cool rooms.
They offer long-term access solutions in manufacturing facilities, warehouses, or separating the sales floor from the back of house area.
Both single- and double-door designs are available in sizes to cover openings up to 2750mm high and 2400mm wide, in a range of colours and with a choice of see-through window panels to enhance safety.
They come with spring impact bumpers or flat impact panels that help cushion the impact of forklifts and pallet trucks.
MTI See-Thru Insulated Traffic Doors operate smoothly, require little maintenance and are built to survive in even the toughest applications.
MTI See-Thru
1300 135 539
www.mtiqualos.com.au