Published 08-08-2019
| Article appears in August 2019 Issue
LOW-HEADROOM CRANE FITS INTO TIGHT SPACES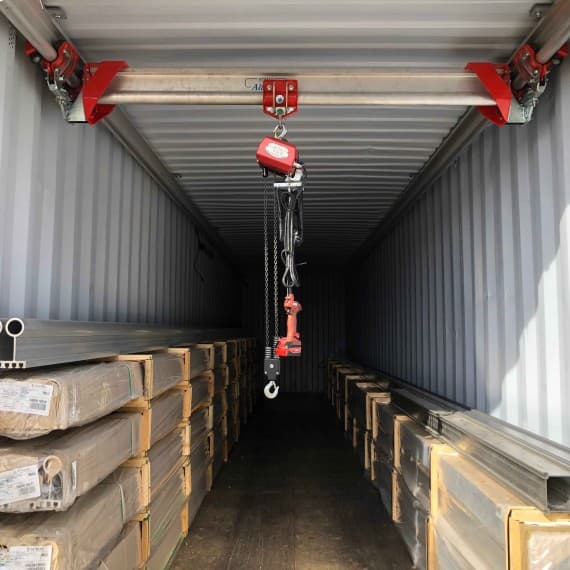 When an overseas customer approached Bomac to order a full container of Altrac and StrongBac, it occurred to them that the easiest way to store and access the rails would be to keep it in the container itself.
To facilitate this, Bomac designed a low-headroom gantry crane complete with a battery-operated electric chain hoist that the customer could install directly into the container.
"This worked really for us," said Thomas Merritt of Blast Control. "We can utilise all the limited space of the container and access the rails quickly and easily."
The low-headroom design allows for maximum use of vertical space without compromising the functionality of an Altrac gantry crane.
"This style of crane has been used for many other applications where space is at a premium," explained Tate McFarlane, Bomac Engineering Director. "When you are working in a space with standard office or garage ceilings, a low-headroom crane can make a huge impact on safety by reducing manual lifting."
As seen in a previous issue of Industry Update, Bomac recently launched an inverted gantry crane, where the cross-travel rail sits above the long travel rails. This is ideal in settings with a ceiling higher than a garage but lower than a modern factory, such as older factory facilities and farm sheds. This inverted configuration maximises the lifting height of the hoist.
The Case Studies section of the Bomac website includes further examples of low-headroom cranes, and others.
Bomac Engineering
03 9796 5300
www.bomac.com.au