Low cost, low pressure moulding from Tarapath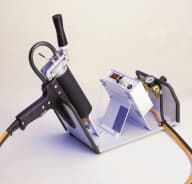 With many Australian manufacturing companies looking to provide niche solutions to their customers, adaptability and economic production techniques are at the forefront of thinking.
Manufacturers need flexible and cost-effective equipment that can get the job done without burning a hole in their pockets.
The Optimel 100, from Tarapath, is one such piece of equipment. Perfect for Australian manufacturing conditions, the Optimel 100 is a hand-held low pressure moulding unit that is perfect for low volume production. It features a 200ml melt reservoir, adjustable temperature and air pressure control making it suitable for processing all Macromelt materials.
Importantly, the Optimel 100 can be used with low cost aluminium tooling, meaning when designs change, or when new products are being made, the investment for each project can be kept to a minimum. Generally, the aluminium tooling can be made with CNC machining and hence, often times can be made in house for many manufacturers.
Macromelt materials can also be advantageous to low volume manufacturers. When processed with the Optimel 100, parts can be completed in minutes, rather than hours or days as compared to traditional epoxy of polyurethane systems.
The non-toxic materials, which are easy to handle, require no mixing and emit no harmful odours.
Tarapath can supply the Optimel 100, Macromelt materials, and all low pressure moulding requirements.