Longspan shelving stacks up as a great option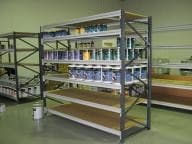 Versatile solution … Prorack longspan shelving from DWS
Prorack longspan shelving is a versatile solution for several applications – from retail shelving through to industrial and heavy industry – including mining.
Shelf loading capacities range from 375kg up to 1000kg per shelf to suit individual needs.
Shelf sizes range from 900 X 450mm through to 2400 X 900mm and range in heights from 1500mm up to 5000mmm with many sizes in between.
Dynamic Warehouse Solutions has large quantities in stock for immediate delivery.
This versatile shelving system is ideal if you're looking for a single bay of Archive shelving for an office or a complete warehouse shelving fitout.
Contact DWS for a free quote.
Dynamic Warehouse Supplies
Ph: 1300 668 468