LONDON BREACHES EU POLLUTION LIMITS IN EIGHT DAYS
15-01-2016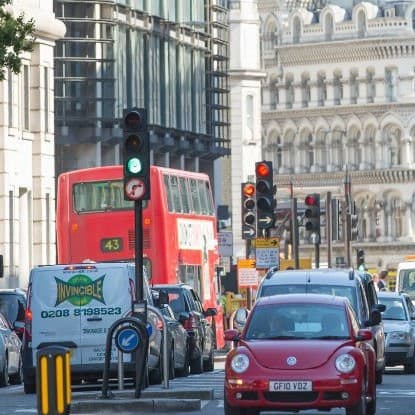 In the last few years there has been a significant shift in the way we are looking at pollution and looking after the environment.
However, London has breached the pollution limit for 2016 in the matter of 8 days, making it the fifth year in a row that the city has gone over their limit for toxic nitrogen-dioxide gas (NO2).
The dangers of NO2 are not just detrimental on the environment, but inhaling NO2 can cause respiratory and heart problems.
According to a report by King's College London, the pollution contributed to 5900 deaths in 2010 alone.
"This is exactly why we are taking the Government back to court," said Alan Andrews, a lawyer for UK environmental law group, Client Earth.
"Its failure to deal with illegal levels of air pollution, which causes thousands of early deaths in London every year, is a scandal."
The European Union law gives sites in london a limit of 200 micograms of NO2 per cubic metre or air, they are only allowed to breach this limit 18 times a year.
However it has been reported that they have breached this limit for the 19th times on Friday morning.
"Oxford Street has almost certainly also broken the limit already, having breached the hourly level a thousand times last year, but the monitoring station has malfunctioned," Guardian reporter, Vaughan writes.
According to a report published by Policy Exchange, some areas of London are experiencing NO2 polution levels similar to that of Beijing and Shanghai .
"It's just [that] central London, and London as a whole, ha[s] a really huge problem with NO2. Breaching so early in the year really just illustrates how big a problem it is," Andrew Grieve, an air quality analyst at King's College London, told The Guardian.
But where is all the excess coming from?
By the looks of things some of the NO2 pollution can be blamed on measure that were implemented to protect the environment.
In the report by Policy Exchange it claims that the increase in diesel- fuelled cars on the roads are the primary contributor to the NO2 levels. With the reporting citing a 7% increase in 1994 and a 36% increase today.
According to a report in The Atlantic, there is possible change on the way in the coming years. Some of the plans include charging vehicles entering high – congestion areas, which is said will be able to cut down pollution by 50%.
London will also be addressing the issue of bus emissions. A mayoral spokesperson has announced:
"The mayor is leading the most ambitious and comprehensive package of measures in the world to improve London's air quality. His recent £10m bus retrofit programme has led to a sustained reduction in NO2 concentrations on Putney High Street."