LOGGERS GET TO GRIPS WITH POWER QUALITY ISSUES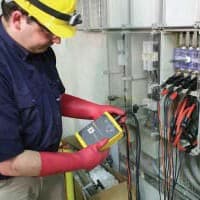 The latest power quality loggers from Fluke incorporate powerful software that automates the analysis and reporting of power quality data from three-phase distribution systems.
The Fluke 1740 Series loggers simplify the collection and reporting of critical utility power quality trends with advanced data aggregation and analysis that saves time, reduces manpower, and eliminates the potential errors of traditional data collection and reporting.
The loggers are fully compliant with the international power quality standard IEC 61000-4-30 (and AS/NZ 61000-4-30.2012 standards) and meet Class A requirements. They can simultaneously log more than 500 parameters for each averaging period, allowing technicians to analyse power quality in detail and to correlate intermittent events with detailed waveform data to identify the root cause of disturbances.
The included PC application software makes it quick and easy to set up the logger, with connections available using Wi-Fi, wired Ethernet or USB.
The loggers also feature an optimised user interface, flexible current probes and an intelligent measurement verification function that lets technicians digitally verify and correct connections. Connection errors are automatically indicated via an amber light on the unit's power button, which turns green once corrected.
The onboard Wi-Fi interface also allows technicians to minimise the time spent in potentially hazardous environments by allowing them to interrogate the logger at a safe distance.
The loggers are rated AS/NZ 61010 600V CAT IV/1000V CAT III for use at the service entrance and downstream.
Fluke Australia
02 8850 3333
www.fluke.com.au