Loctite expands its range of safety adhesives
31-08-2010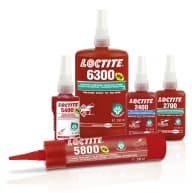 Henkel's Loctite brand will expand its health and safety range in mid-October with three innovative new anaerobic products.
This includes the retaining adhesive Loctite 6300 for cylindrical assemblies, gasketing product Loctite 5800 and the thread sealant Loctite 5400.
All these products underscore Henkel's leading role in combining technology with sustainability. The company is the only one to offer a complete portfolio of non-hazardous anaerobic adhesives.
Henkel introduced its first two anaerobics with a "white" material safety data sheet in 2009 – the threadlockers Loctite 2400 and Loctite 2700.
The three newly developed Loctite products also contain no hazardous ingredients. This means that according to the tough regulations of (EC) No. 1907/2006 – ISO 11014-1, they do not have to be labeled with any hazard symbols, risk or safety phrases. Nor do they contain any declarable CMRs (carcinogenic, mutagenic and reproductive toxins).
The new expanded Loctite range offers customers an even greater choice of innovative health and safety solutions.
With every new product Henkel has a strong focus on sustainability.
"When developing products for the industrial adhesives segment, our main focus in this area is health and safety at work," explains Grita Berendt, product manager for Loctite brand anaerobic adhesives and sealants. "Because for us at Henkel, first-class product performance also includes responsibility for the health and safety of our customers."
The key for Loctite is to eliminate hazardous ingredients without compromising on product performance. And the three new products not only offer outstanding performance, but also meet even the most stringent health and safety requirements. Henkel customers can therefore expect significant added value, as the new range actively supports companies in their efforts to promote health and safety.
The non-hazardous Loctite products provide solutions with all the accustomed power and performance for many kinds of metal joining applications.
The high-strength retaining product Loctite 6300 has a green fluorescent color, a viscosity of 350 mPa and a shear strength of 20 N/mm².
Loctite 5800, a thixotropic, medium-strength gasketing product, has a red fluorescent color, a viscosity of 150,000 mPa and a shear strength of 12 N/mm².
The yellow fluorescent, medium-strength thread sealant Loctite 5400 is also thixotropic, has a viscosity of 27,000 mPa and a breakaway torque of 19 Nm.