Published 08-01-2019
| Article appears in February 2019 Issue
LOCK-GRIP PULLERS MAKE LIGHT WORK OF MAINTENANCE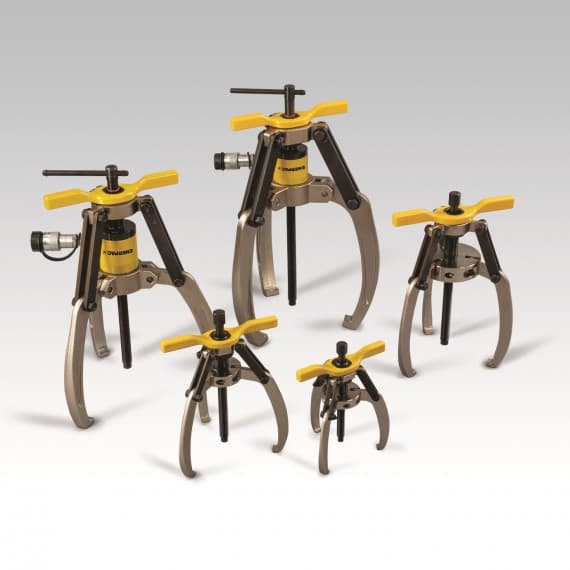 Available now from Enerpac, the LG Series of lock-grip pullers enable simple, safe and cost-effective removal of shaft-mounted parts. The series includes both mechanical and hydraulic versions, all engineered to deliver precision results even in the harshest operating conditions.
LGM-Series mechanical lock-grip pullers are ideal for pulling small- to medium-sized wheels, sprockets, bearings and other similar shaft-mounted parts. The puller's locking mechanism enhances safety by preventing the jaws from slipping during the pulling action. And a self-centring closing system allows all jaws to move simultaneously, making it easy for a single operator to mount the puller and to perform the application.
"The new Lock Grip pullers have been designed for a greater reach from the same diameter spread, allowing for the removal of thicker objects," says Enerpac National Sales Manager Darryl Lange.
LGH-Series hydraulic lock-grip pullers provide the same safety and ease of use as their mechanical counterparts, with the pulling force applied by a standard 700bar hydraulic cylinder. These pullers can apply up to 60t of force and are designed for removing larger shaft-mounted objects up to 660mm in diameter.
Master puller sets are available that include an LGH-Series puller, cross puller, bearing separator, bearing cup puller, detachable hollow cylinder, hose and gauge and a pump. There are also set options available that include hand, air, electric and cordless pumps.
"Enerpac offers a complete line of pullers with the widest range of sizes, capacities and styles," says Lange. "All are made of high-strength steel alloys that are dependable, providing years of trouble-free operation, even in the harshest environments."
Enerpac Australia
02 8717 7200
www.enerpac.com