LOCATION, LOCATION AND RELOCATION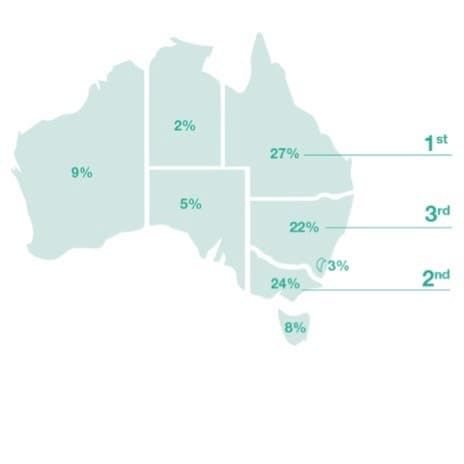 A survey by recruitment firm Robert Walters shows that 58 per cent of Australian professionals would relocate to another state for work, with better pay, career advancement, family reasons and additional benefits such as flexible working conditions being the primary reasons.
On the other hand, the biggest challenges in relocating were anticipated to be finding accommodation, a job for a spouse/partner and like-minded people in the community.
The pulse online survey, commissioned just days after the Federal budget and conducted by independent research firm Pure Profile, found that of those considering a change of scenery, the equivalent of 3.7 million people would be more likely to move, compared to 5 years ago.
Queensland ranks as the hottest destination (27%), followed by Victoria (24%) and NSW (22%), which is certain to stir up interstate rivalry.
Commenting on the findings, Robert Walters' Queensland Director Sinead Hourigan said: "Aside from the exceptional liveability factors for Queensland in general and the South East region in particular, and the 100 billion dollars' worth of infrastructure, health and schools promised as part of the Coalition and Labor budget announcements, it is little wonder that more and more Australians are wanting to move to where the money is being spent.
"The appetite for Australians to move to Queensland for work has certainly increased over the past 12 months. We are seeing more and more in demand professionals chasing opportunities for project work, particularly in the infrastructure, technology and engineering industries."
These findings are consistent with data from the Australian Bureau of Statistics showing a net interstate migration gain of 24,000 for Queensland over the past year, taking its total population to 4.9 million.
"In today's highly competitive hiring environment, many employers are finding it challenging to locate skilled professionals in their immediate area. As a result, organisations are now better prepared and more open to considering professionals in other states and in-turn offering attractive relocation packages," said Hourigan.
"Besides receiving corporate incentives to move, there are a number of professional and personal reasons workers may opt for a change, including a higher salary, better rewards, cost effective schooling options, more affordable cost of living and promotion opportunities."