| Article appears in October 2021 Issue
Locally Manufactured High Speed Doors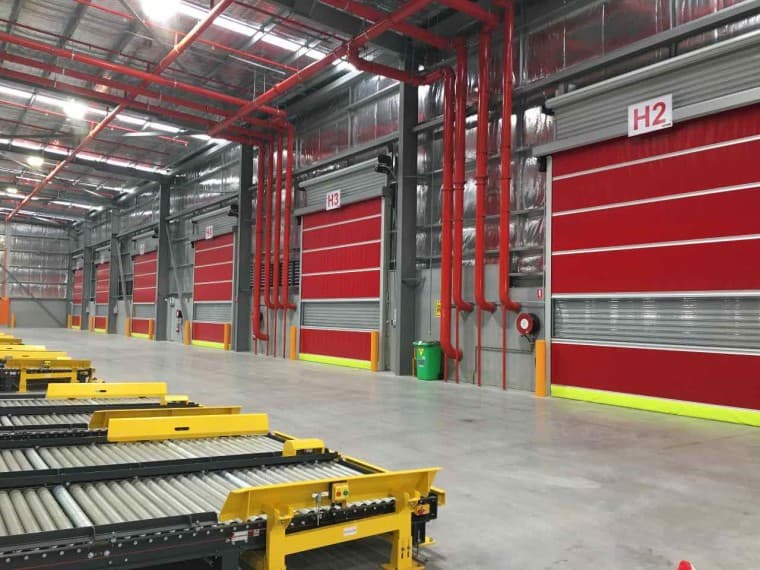 Ever increasing energy costs are causing many companies to re-evaluate the climate-control requirements of their premises, and that includes taking account of the types of doors used – particularly on larger openings.
There are many different types door on the market that can be used for large openings. However, the longer the time that any large area door is open (or partially open), the more air is exchanged between the indoor and outdoor environments.
And in buildings with high frequency of traffic through the doorway, it is inevitable that any slow action type of door will regularly be left in the open position for longer than necessary.
This can significantly increase the costs associated with heating the building in winter and cooling it during summer – especially in applications where the indoor climate is critical to processing operations or product storage.
The simple solution is to install a DMF High Speed door, fully manufactured in Sydney. These fast-acting doors offer an effective and reliable alternative to standard roller shutters or sectional type doors, and more efficient and user friendly then conventional PVC strip curtains.
The door designs can be used for indoor or external applications in all types of facilities, including warehouses, production facilities, pharmaceutical clean areas, workshops, food processing facilities and stores.
With opening and closing velocities in the region of 1-2m/s (depending on size and model), DMF doors minimise the time the door is open and therefore help maintain climate control for temperature-sensitive areas, reducing draughts in the workplace, reducing the ingress of weather and/or dust and fumes, and keeping vermin and birdlife out.
The fast cycle time also improves premises security, with little chance of unauthorised people gaining access while the door is closing.
One important factor to consider when choosing a high speed door is reliability, and the number of cycles between servicing. Whereas a slow-acting roller door might be subject to three or four open/shut cycles per day, a fast-acting high-speed door will often be subject to 500 or more cycles per day.
Sydney based DMF International Pty Ltd, have been manufacturing rapid roll doors for over 20 years in their well equipped factory, and now even have manufacturing in SE Asia under joint ventures with long term partners.
All of the doors are custom manufactured to size and specification of the application, and their design team can provide expert advice on the most efficient forms of automatic activation for the doors. A wide range of activation methods can be specified for each door, depending on the exact requirements of the application. These include pushbuttons, remote controls and swipe cards. Induction floor loops and various forms of active or passive motion sensors are popular options for warehousing and logistics applications.
The drive system of our Series RL3000 door utilises simple "plug n play" technology, and is fully programmable, again allowing customising to suit the client requirements.
The DMF range includes door blades manufactured from a durable reinforced flexible PVC, transparent PVC, and our new Coldsaver door blade in 15mm thick flexible PVC construction, making it ideal for coolrooms and freezers.
Safety is always an important factor and while the doors comes with standard safety sensors to ensure safe passage of traffic, there is a vast range of additions that will enhance the safety action of the high speed doors. DMF also partners with Efaflex products,
DMF International is uniquely positioned to offer these high quality high-speed doors to local customers. With trained partners Australia-wide, DMF can provide solid backup service, including maintenance support.