Published 22-09-2020
| Article appears in October 2020 Issue
Local engineering company wins project for security entrance solution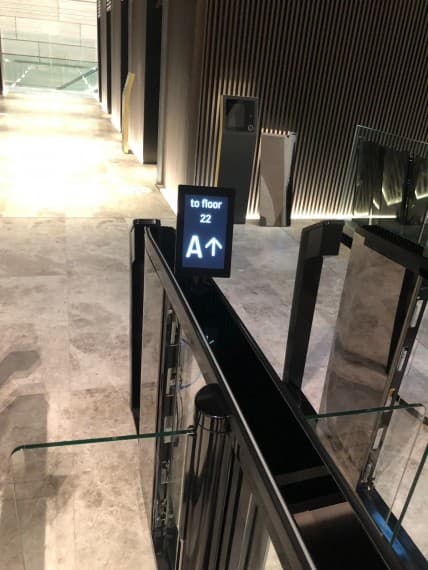 Local firm Leussink was engaged by Dutch company Boon Edam, to create a bespoke visual display unit for security entrances.
 To mitigate the risk of spreading coronavirus through building entrances, Boon Edam is expanding its range of touchless entrance solutions.
 Touchless entrance systems are not only more hygienic, but they can have security measures installed to prevent tailgating and other unauthorised entry.
 Boon Edam engaged Leussink to create a robust, functional and aesthetically pleasing visual display unit to show the appropriate lift as an authorised person walks through the speed gate security entrance at the front of a prominent Melbourne office building.
 "The visual display unit needed to clearly show the user which lift to proceed to, and it needed to seamlessly integrate with our product."
 "Leussink was able to come up with a customised solution that we were very happy with, and importantly, so was our client," said Michael Fisher, Managing Director of Boon Edam.
 Boon Edam is known as a global leader in security entrances and architectural revolving doors.
 "Boon Edam was already well advanced on touchless entry solutions, including facial recognition, palm readers and lift destination control, and the impacts of COVID have only accelerated this change," said Fisher.
 "The visual display was important to an ongoing touchless entry project, so we needed a local engineering partner that was agile, and could meet our unique brief."
 " Working with an Australian organisation with the right expertise on the project was helpful for us and meant quick turnaround times which was important on this job."
 "Leussink's visual display blended in so well with our speed gates that it looks like it was part of the original product. The units were well designed structurally too, to minimise the risk of them being bumped out of position."
 "Ray Leussink and the whole team were fantastic to work with from start to finish – a truly professional and high-quality Australian manufacturing and engineering company."
 "I can see the potential for other Boon Edam subsidiaries globally to use these elegant and well-integrated visual displays."
 The unit is made of powder-coated aluminium and manufactured using intricate 3D machining. It bolts to the existing gates and once installed blends neatly with the existing channel. It's designed to be robust and functional.
 Leussink's Ray Leussink said the relationship with the team from Boon Edam has been positive.
 "Given the restrictions of the COVID pandemic we haven't met face-to-face but via video, with plenty of email and phone communications to back this up."
 "Despite the absence of in-person meetings we developed a great working relationship with the Boon Edam team." added Leussink.
 Leussink provides modular fixturing and metrology solutions that revolutionise workshops and production facilities in Australia & New Zealand, in partnership with trusted industry leading German brand Demmeler and Italian brand Tomelleri.
 Leussink - https://www.leussink.com.au