LOCAL AUTOMATION TECHNOLOGY BOOSTS BEARING REFURBISHMENT
21-12-2017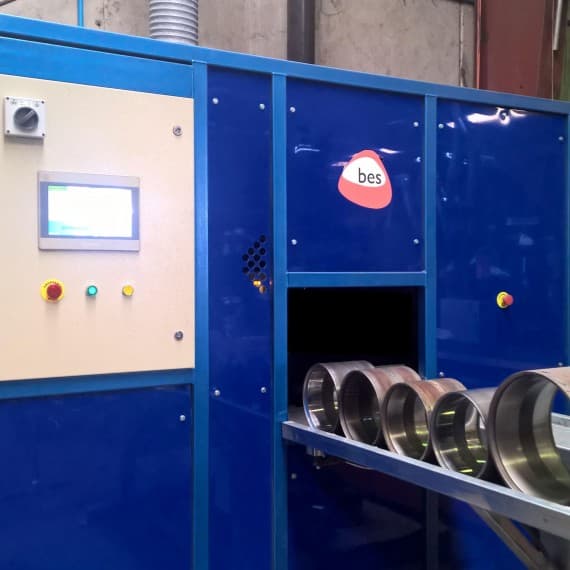 The BES automated bearing polisher
An Australian-designed and -built automated journal bearing polishing machine from Schaeffler Australia is benefitting rail customers by cutting job turnaround times while optimising output quality and service life.
The novel automated machine has been introduced by Bearing Engineering Services, a division of Schaeffler Australia, to deliver superior raceway finishes and extended service life in railway journal bearings used by passenger and freight rail customers, including government and private industry customers such as mining companies.
The BES automated journal bearing polishing machine is capable of handling all metric and AAR sizes, and is a first for the Australian bearing reconditioning industry. It has been commissioned at BES' plant in Auburn, Sydney, and is working out very well in service, according to the company's Railway and Reconditioning Manager, Enzo Cavalli.
"The turnover time savings are invaluable and the quality boost is also a major benefit for customers wanting to get the longest life and greatest reliability out of their rolling stock," says Cavalli.
The new machine, designed in-house and built by local contractors, enables BES to deliver bearing raceway quality levels closer to that of new. As a result, it increases whole-of-lifespan efficiencies for BES clients, including those in light and heavy passenger rail, as well as freight and heavy haul operations throughout Australia, New Zealand and the Asia-Pacific region.
BES customers also extensively cover heavy haulage rail including iron ore, coal and other mining industries, bulk handling, sugar, transport terminal and port loading infrastructure users of railway equipment.
Not only does the new automated technology provide a superior raceway finish compared with traditional manual polishing methods, it enables improved quality control through greater accuracy and consistency. For customers, the improved service life reduces bearing lifecycle costs. And for staff, workplace health and safety is improved thanks to reduced manual handling, fewer repetitive manual operations, and improved dust and contamination controls and collection.
The introduction of the automated machine into the BES production and refurbishment facilities has enabled highly trained and skilled staff to spend more time focused on the critical areas of the reconditioning process that deliver higher value and better returns to clients.
Schaeffler Australia
02 8977 1000
www.schaeffler.com.au