Published 14-05-2020
| Article appears in June 2020 Issue
A LOAD OF WAFFLE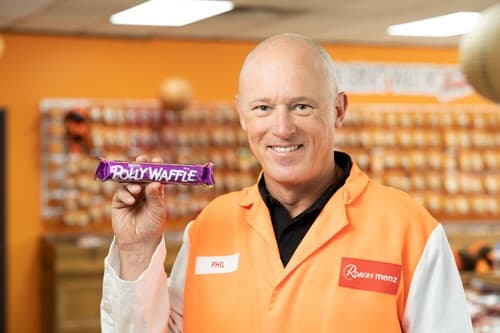 Adelaide chocolate manufacturer Robern Menz is resurrecting a milkbar mainstay of the '80s.
The Polly Waffle, a heady mixture of marshmallow, waffle wafer and chocolate, is coming back from chocolate bar limbo to retailers of sweet treats everywhere.
Created by Melbourne confectioner Hoadley's in 1947, the Polly Waffle became a familiar sight in lolly shops around Australia thanks to its distinctive purple packaging. It was discontinued by then-manufacturer Nestle in 2009.
Now, the Polly Waffle has received a second lease on life thanks to a $1 million cash injection from the Federal Government's Commonwealth Manufacturing Modernisation Fund.
Robern Menz is one of a number of companies to receive the grant.
"The funds provided by the grant will go a long way to supporting the production of the Polly Waffle chocolate bar right here in Australia," says Phil Sims, CEO of Robern Menz.
"The significant contribution gives us the confidence to move forward and purchase vital equipment to support the production of Polly Waffle at our factory in Adelaide."
The Polly Waffle production line will require 38 new full-time jobs. The grant allows Robern Menz to recruit those roles over the next two years.
"The grant means we're one step closer to getting Polly Waffle back into production and into the hands of customers," Sims says.
"We know how important it is that the final product meets people's expectations, and that takes time to perfect."
Deceptively simple, the Polly Waffle's unique combination of layers means that it requires a number of complicated processes to manufacture.
"Having been out of production for over a decade, we are now custom-building the Polly Waffle line," Sims says.
"Technology has advanced significantly since Polly Waffle was first produced in Australia, so we want to thoroughly examine all options before selecting the best one."
In the years since its retirement, the Polly Waffle has been the subject of a number of passionate fan campaigns to bring it back. Those prayers have now been answered, although Robern Menz doesn't have a definitive date for the relaunch.
Sims anticipates Polly Waffles will hit shelves in late 2021.
"We want to ensure the final Polly Waffle product is as delicious as fans remember, so it's crucial we get this right from the start."