LOAD TESTING SERVICE CENTRE OPENS IN FAR NORTH QUEENSLAND
24-03-2017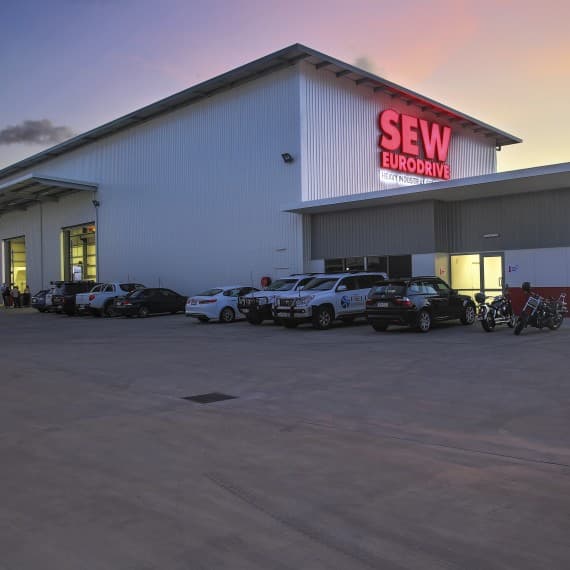 SEW-Eurodrive officially opened its new 2000m2 state-of-the-art heavy industrial service centre in Mackay on Friday 17th March 2017.
Member for Mackay, Julieanne Gilbert MP, Deputy Mayor of Mackay Regional Council Cr Amanda Camm and 100 guests including SEW-Eurodrive management, customers and suppliers gathered at the company's Paget facility for the celebration.
Robert Merola, Managing Director of SEW-Eurodrive highlighted the significance of this investment. "This new facility supports the company's philosophy of centralised assembly and decentralised service," he said. "Customers in Mackay and surrounding region will now be able to take advantage of the technical expertise of a global player with a strong local presence to ensure the reliability and longevity of their operations and processes."
The new service centre includes a state-of-the-art load testing facility up to 500kW power and up to 600kNm torque. Spin testing and partial load testing up to 1.5MW is also available.
According to Daniel Dallari, Sales & Operations Manager – Far North Queensland for SEW-Eurodrive, the load testing facility is a great addition to the SEW-Eurodrive service centre in Mackay. "SEW's load testing capability will be the first of its kind in Queensland," said Dallari. "Other gearbox repairers only spin test the overhauled gearboxes and any potential problem will only be revealed after the unit is back in operation."
One major benefit of the new service centre in Mackay will be that customers' maintenance and service personnel will be able to visit the facility to witness their equipment being load tested.
After the formal opening proceedings, guests were treated to an evening of good food and entertainment, including a performance from local and international song-writing sensation Brad Butcher.
The service centre will allow SEW-Eurodrive to support customers in Mackay and the surrounding region with all their drive technology requirements.
SEW-Eurodrive
1300 739 287
www.sew-eurodrive.com.au